Apple CEO Tim Cook Announces $1B Fund for Advanced Manufacturing Jobs on CNBC's Mad Money
Apple CEO Tim Cook sat down with Mad Money host Jim Cramer this evening, where he discussed Apple's recent earnings results and delved into topics like an upcoming investment fund, the company's plans for television, the iPhone's impact on consumers, and Apple's overall impact on the world.
During the show, Cook said Apple plans to create an advanced manufacturing fund with a $1 billion investment. Apple's first investment, which is already in the works, will be announced later in May.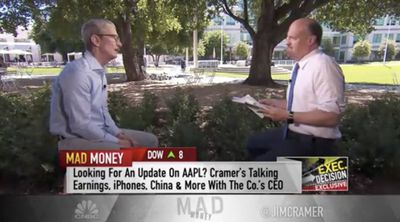 By doing that, we can be the ripple in the pond. Because if we can create many manufacturing jobs around, those manufacturing jobs create more jobs around them because you have a service industry that builds up around them.
Cook went on to say that Apple is always looking at new ways to create jobs in the United States, and said the company will "bring things to market" in regard to growing its employee, developer, and manufacturing base. Cook also highlighted the $50 billion Apple spent purchasing from U.S manufacturers over the last year, including sourcing materials from 3M (adhesive) and Corning (iPhone and iPad glass).
Job creation and investment in the developer community was also a focus, and Cook said we can expect to hear more during the summer. When asked specifically if Cook would put money behind empowering the next generation of developers, he said "We would. We will."
On products, some of Cook's most interesting comments covered Apple's services category, which includes the App Store, Apple Music, Apple Pay, iTunes, and iCloud, and its future. Apple plans to double its services category by 2020 with both existing and new services, and Cook said Apple is pursuing opportunities related to television and original programming.
On video in particular, what we see is that the video world has kind of hit an air pocket and where cord cutting has been happening on some kind of basis, we think it's accelerating massively and it's clear what the end story looks like here.

The trajectory is a debate, but we'd like to play in this. Because we do think the best experience for a customer is to view things when they want, the way they want, and have many additional information around what they're watching. Not just the linear TV feed. So yeah, we're working on some original content now, we're learning, and we'll see where this takes us.
On the iPhone 7 and 7 Plus, Cook agreed when Cramer suggested the iPhone was the greatest consumer technology product. "I think the iPhone is the best consumer product ever," he said. "That's what I feel about it. And it's become so integrated, so integral to our lives that you wouldn't think about leaving home without it."
Cook was asked if there's something coming our way that's totally unexpected and will "knock us out," and he of course demurred on an answer, but shared some hints on Apple's areas of interest, including artificial intelligence and augmented reality. "We always are working on an incredible number of things," he said.
I think AI is huge. We use AI in so much of what we do today, but we're going to be able to use it even more in the future because the processing and GPUs are getting so incredible, their capabilities so incredible... so we're going to be able to do a lot more. I don't want to get into details, but there's a lot more there.

AR, I've said in the past, this is something we're really excited about.
Cook covered a much wider range of topics during the interview with Cramer, including reiterating some of the comments he made during yesterday's earnings call about iPhone rumors impacting iPhone 7 and 7 Plus sales, especially in China. Other topics of discussion covered iPhone retention rate, stock valuation, Apple's focus on users, tax reform, the U.S. government, and more.
Excerpts from the interview are available on the CNBC website, here and here.