iMac Pro Could Include Mobile Connectivity for 'Always On' Theft Protection
A new blog post over at Pike's Universum, a site known for digging deeper into Mac firmware files, claims to have found data relating to some form of mobile connectivity in the upcoming iMac Pro that could be used for "advanced theft protection" similar to Apple's Find my iPhone service.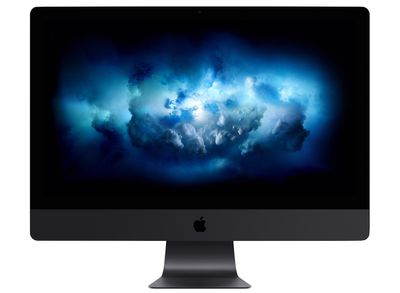 Even the cheapest iMac Pro costs $4999 and is thus far more expensive than any other iMac model that is now available, let alone the top of the line one with a price tag north of $15K, and it is so easy to walk away with a 27-inch computer, and that may be why Apple is going to introduce a new kind of "Find my iMac Pro" type of theft protection. One that phones home to report the exact GPS location. And there's no way of switching it off…
The post goes on to suggest that the data could alternatively relate to a new feature in the iMac Pro that uses a SIM card to make phone calls. "Or perhaps the data that I found has to be a leftover from iOS for the iPhone," ends the post, qualifying the claims as speculation at this point.
No further details on the uncovered data in the iMac Pro firmware were forthcoming, but Pike's Universum has offered relevant information in the past. The site revealed some of the iMac Pro's tech specs back in April, two months prior to it being announced, including that it would have Xeon processors, ECC RAM, faster SSD storage, AMD graphics options, and Thunderbolt 3 ports, although some of the specific details were inaccurate.
Later, in June, the site claimed that files in a macOS High Sierra developer beta suggested the iMac Pro could be powered by Intel's next-generation server-grade Skylake-EX and Skylake-EP processors, which are based on a platform codenamed "Purley." The blog added that the new iMac Pro also appears to be coming with a Secure Enclave, suggesting it will have an ARM coprocessor like the MacBook Pro with Touch Bar for added security.
Over the weekend, several developers discovered data in Apple's BridgeOS code that suggests the upcoming iMac Pro will feature an A10 Fusion chip with 512 MB of RAM. While the full functionality of the A10 chip isn't yet known, the chip will enable support for "Hey Siri" functionality, potentially even when the iMac Pro is turned off.
Unveiled at WWDC in June, the iMac Pro is scheduled to launch next month, but Apple has not yet provided a specific launch date for the high-end desktop.