Apple Wants to Produce Comedies and Dramas That Are Viewer Friendly Enough for Apple Stores
Apple's reported $1 billion push into original content will include comedies and emotional dramas with broad appeal, according to Bloomberg.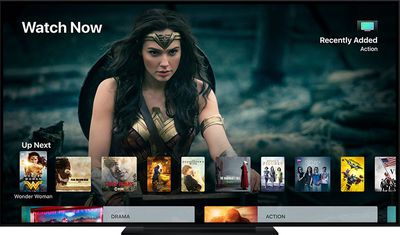 The report claims Apple wants every show it produces to be suitable enough for an Apple Store, as opposed to content with nudity, raw language, and violence. Hollywood producers that have pitched edgier content, such as an eight-part series produced by filmmaker Alfonso Cuarón, have allegedly been turned away.
Apple wants to have a small slate of shows ready for release in 2019, a timeframe previously reported. Unlike Planet of the Apps and Carpool Karaoke: The Series, however, its new shows will supposedly no longer be placed on Apple Music, which in turn will be limited to music-related videos and documentaries.
Carpool Karaoke itself was supposed to launch in April, but its debut was delayed until August due to some coarse content.
Days before Apple Inc. planned to celebrate the release of its first TV show last spring at a Hollywood hotel, Chief Executive Officer Tim Cook told his deputies the fun had to wait. Foul language and references to vaginal hygiene had to be cut from some episodes of Carpool Karaoke, a show featuring celebrities such as Gwyneth Paltrow, Jessica Alba, Blake Shelton, and Chelsea Handler cracking jokes while driving around Los Angeles.

While the delay of Carpool Karaoke was widely reported last April, the reasons never were. Edits were made, additional episodes were shot, and Apple shifted resources to another show. When Carpool Karaoke was released in August, it didn't make much of a splash.
Apple has aggressively hired as it pushes into the content arena. In June, the company hired Zack Van Amburg and Jamie Erlicht, two Sony Pictures Television executives, to lead its video programming efforts. Apple has also hired Matt Cherniss, Morgan Wandell, Jay Hunt, and several other industry executives.