Apple Seeds Fourth Beta of iOS 11.1 to Developers [Update: Public Beta Available]
Apple today seeded the fourth beta of an upcoming iOS 11.1 update to developers, just four days after releasing the third iOS 11.1 beta and a month after releasing the iOS 11 update to the public.
Registered developers can download the fourth iOS 11.1 beta from Apple's Developer Center or over-the-air once the proper configuration profile has been installed from the Developer Center.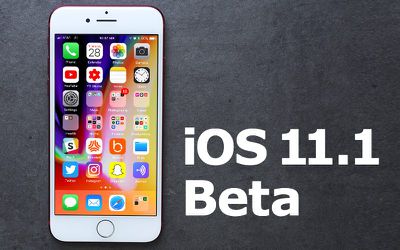 iOS 11.1 introduces a range of new Unicode 10 emoji like crazy face, pie, pretzel, t-rex, vampire, exploding head, face vomiting, shushing face, love you gesture, brain, scarf, zebra, giraffe, fortune cookie, pie, hedgehog, and more.


Several emoji also feature some small design changes in iOS 11.1, including the dolphin, octopus, bee, snail, and whale characters, among others. The new designs are more detailed and realistic than existing designs.
The update also introduces a fix for a Reachability bug that's been present since the release of iOS 11 and it brings back the 3D Touch App Switcher gesture that has been missing from iOS 11 since its release. With the return of the gesture, iPhone users can once again 3D Touch at the left edge of the display to bring up the multitasking App Switcher interface.
A few other small features are included in the iOS 11.1 beta. The built-in keyboard in iOS 11.1 now offers up multiple emoji symbols when using an emoji-related word, there's an updated camera icon under Restrictions, a new animation when tapping the status bar to scroll upwards, and a faster unlock animation.
As for security fixes, iOS 11.1 addresses a serious vulnerability in the WPA2 Wi-Fi standard that protects many modern Wi-Fi networks. Using a key reinstallation attack or "KRACK," attackers can exploit weaknesses in the WPA2 protocol to decrypt network traffic to sniff out sensitive information.
Though not in the developer/public beta right now, the iOS 11.1 update could introduce the Apple Pay Cash feature, which Apple employees are currently testing in a special version of the beta.
iOS 11 marks a major update to the operating system with systemwide design tweaks, a new Lock screen experience, a revamped Control Center, ARKit, new app features, and an entirely new interface for the iPad that includes a Dock, Drag and Drop support, and a redesigned App Switcher for better than ever multitasking.
Update: There is also a new beta of iOS 11.1 available for public beta testers.