Apple Extends Internal iOS 11.1 Apple Pay Cash Testing to Retail Employees
Starting in early October, Apple corporate employees in the United States began testing Apple Pay Cash internally in the iOS 11.1 beta, suggesting the person-to-person Apple Pay feature could be introduced in iOS 11.1 despite its current absence from the iOS 11.1 developer beta.
Apple has now expanded its internal Apple Pay Cash feature to its retail employees, making it available to a much wider range of people for testing purposes.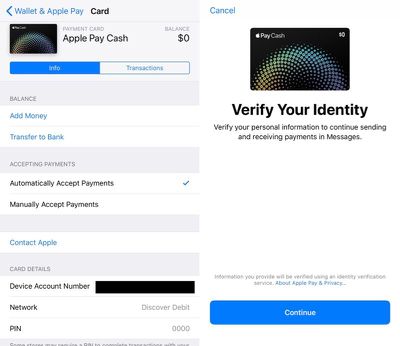 Retail employees gained access to the feature today and have been asked to install both the iOS 11.1 beta and an additional internal-only beta profile to unlock the Apple Pay Cash feature. According to the retail employee who spoke to MacRumors, Apple is also requiring iCloud accounts to be whitelisted to use Apple Pay Cash.
The Apple Pay Cash setup process can be seen in the screenshot below -- it asks customers to verify their identity with name, address, and social security number.


Apple Pay Cash works through the Messages app and is designed to allow for quick person-to-person money transfers, much like Square Cash or Venmo. It's available as a dedicated iMessage app in the built-in Messages app, with cash transferred through iMessage transactions. Though most Apple Pay Cash coverage has focused on the iPhone, money can also be sent using an Apple Watch.


When sending cash, it can be sent from a linked debit or credit card, while received cash is stored in an Apple Pay Cash card in Wallet that can be used for purchases or sent to a bank account. Sending cash through a credit card incurs a 3% fee, while sending cash from a debit card is free.
The Apple Pay Cash card available in Wallet is being made available through a partnership with Green Dot, a company that offers prepaid Discover cards.
For Apple Pay Cash to work, both parties need to have the feature enabled and activated. Money can only be sent in a one-on-one message, with Apple Pay Cash not available in group messages.
On the Apple Watch, the interface requires you to scroll past the Scribble icon in the Messages app to access the Apple Pay button. Tapping on it allows users to enter a dollar amount using the Digital Crown or on-screen buttons. Payment is then confirmed via a double click on the Digital Crown, but scrolling down allows for users to choose a different payment source than the default.
Apple first announced person-to-person Apple Pay as an iOS 11 feature at its Worldwide Developers Conference in June, but it was not implemented in any of the iOS 11 betas and towards the end of the beta testing period, Apple confirmed it would be coming in a future iOS 11 update.
Apple Pay Cash is not present in the current iOS 11.1 beta available to developers and public beta testers, but given the expanded internal beta test, it appears Apple is nearly finished with the feature and is gearing up to release it as part of the iOS 11.1 update.