Apple Confirms New Emoji Are Coming to iPhone and iPad in iOS 11.1
Apple today announced that hundreds of new emoji characters will be added to the iPhone and iPad in the upcoming iOS 11.1 update.
The company also showed off some of the new emoji that will be introduced, all of which are part of Unicode 10. Some of the new additions include crazy face, pie, pretzel, t-rex, vampire, exploding head, face vomiting, shushing face, love you gesture, brain, scarf, zebra, giraffe, fortune cookie, pie, hedgehog, and more.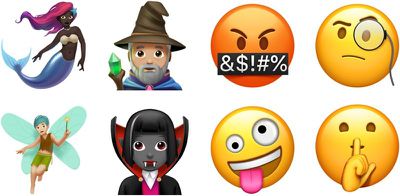 Hundreds of new emoji, including more emotive smiley faces, gender-neutral characters, clothing options, food types, animals, mythical creatures and more, are coming to iPhone and iPad with iOS 11.1.
New child, adult, and older adult emojis in a range of skin tones are included, as are characters for person in steamy room, bearded person, mage, fairy, vampire, merperson, elf, genie, person climbing, person in lotus position, and more, with all of those emoji available in multiple skin tones and genders. While there are 56 distinct new emoji characters, gender/skin tone modifiers and flags bring that total to over 200.


Unicode 10 was first released in June of 2017, but it often takes several months for Apple to implement new emoji characters after a Unicode update as all of the new characters need to be drawn by Apple artists in the Apple emoji style. All of the Unicode 10 emoji are listed on emoji site Emojipedia.


Apple previously previewed some of the new Unicode 10 emoji back in July.
The first beta of iOS 11.1 was released to developers last week. It did not include the promised Unicode 10 emojis, but Apple says they'll be added in developer and public betas of iOS 11.1 next week.
We've also seen evidence suggesting iOS 11.1 could include the Apple Pay Cash feature as employees are testing it internally, so the update is shaping up to be a significant addition to the iOS 11 operating system.
There's no word yet on when iOS 11.1 will see a public release.