Samsung Debuts $499 Windows Mixed Reality Headset
At an event held in San Francisco this morning, Samsung and Microsoft announced the debut of the HMD Odyssey, a headset designed to work with the Windows Mixed Reality platform.
Priced at $499, the headset offers high-resolution dual 3.5-inch AMOLED displays with a 110-degree field of view for what Samsung says is the "most immersive Windows Mixed Reality experience." With AMOLED technology, the headset offers more vibrant colors and deeper blacks for more lifelike images, and there are built-in AKG headphones for 360 degree spatial sound.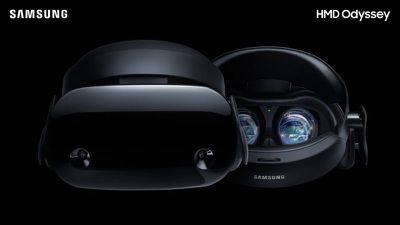 The HMD Odyssey is equipped with a Six Degrees of Freedom sensor for "intuitive and natural movements," while the headset itself features an adjustable control wheel for a snug fit on the head and the two motion controllers enable movement in the virtual world.


Windows Mixed Reality, despite the name, is essentially Microsoft's virtual reality platform. Microsoft has teamed up with several PC makers like Acer, Dell, HP, and Lenovo to create a range of "Mixed Reality" headsets that work with the platform. Mixed Reality mixes augmented and virtual reality experiences to blend the real world with the digital world, but Windows Mixed Reality is a full virtual reality experience at the current time.
While Apple has delved into and embraced augmented reality with the release of
ARKit in iOS 11
, the company is also rumored to be
exploring virtual reality concepts
. There have been rumors of work on both a virtual reality headset and
augmented reality smart glasses
, but it's not yet clear if those products will ever make it beyond the prototyping stage.
Apple in macOS High Sierra is planning to support eGPUs and VR content creation through Metal 2 and partnerships with Valve, Unity, and Unreal, but beyond that, ARKit is the closest thing the company has to the Windows Mixed Reality platform, and there is no comparable product to the Samsung headset.
Samsung's Odyssey Mixed Reality Headset is priced at $499, and is available for pre-order starting today ahead of a November 6 launch. A range of other Mixed Reality headsets are also available from Microsoft at prices starting at $329.