IKEA Launches New Apple-Inspired Ad Campaign for Qi Charging Furniture
IKEA today has launched a new "tribute campaign" to Apple and the inductive wireless charging features of the iPhone 8, 8 Plus, and X, playing off of popular Apple catchphrases like "This changes everything" and "Think different" (via DesignTAXI and The Verge).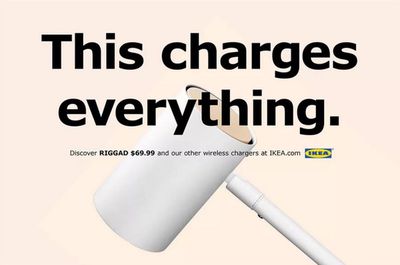 The campaign is called "This Charges Everything," and includes multiple other references to Apple's advertising campaigns of years past, as well as a few jokes aimed at the internet's wish for AirPower to be called "
Apple Juice
."


The new IKEA ads are aimed at the RIGGAD LED lamp with Qi wireless charging, which runs for $69.99, and the VARV Table lamp with Qi wireless charging, which runs for $79.99. Other Apple references include: "One more thing... it's also a lamp," "Link different," and a question asking Siri "what lamp should I buy?"
IKEA has quite a few pieces of furniture and home accessories with Qi pads, including bedside tables, floor lamps, and individual charging pads (single and triple) that you can place anywhere.


IKEA teamed up with advertising agency ACNE to build the campaign for "This Charges Everything." According to Morten Kjær, Creative Director at IKEA Creative Hub, "IKEA has been very progressive with wireless charging, and we are thrilled that new iPhone owners finally can make use of one of the most powerful lamps we've ever made."


The new campaign has been shared to time with today's launch of the iPhone 8 and iPhone 8 Plus, which are the first of Apple's iPhones to ever support wireless charging through the Qi standard. When it launches in November, the iPhone X will also support the feature and will be able to charge through IKEA's furniture. For a look at current and upcoming Qi-supported charging pads, check out our roundup here.