Apple Celebrates Launch of iPhone 8, iPhone 8 Plus, and Apple Watch Series 3
As it traditionally does on product launch days, Apple today has celebrated the launch of the new iPhone 8, iPhone 8 Plus, and Apple Watch Series 3 by sharing a few images of customers around the world buying and trying out the devices for the first time.
The new iPhone and Apple Watch models went on sale (or will soon go on sale) at 8 a.m. local time around the world today, and Apple posted pictures of customers purchasing the devices at Apple Stores in London, Singapore, Taipei, and Sydney.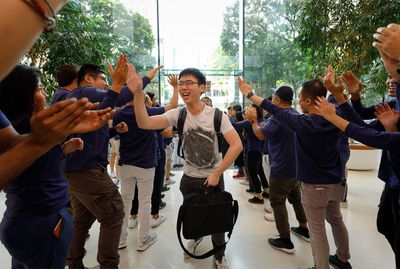 Apple Orchard Road, Singapore
The iPhone 8 and 8 Plus are Apple's latest smartphones, with a glass back design, inductive wireless charging, Retina HD displays, faster A11 Bionic chips, and advanced augmented reality capabilities.
Although the new iPhone 8 and 8 Plus launched first in countries like New Zealand, Australia, Japan, and China, a Reuters report last night referenced "a bleak turnout" for the smartphones. Fewer than 30 people were said to have lined up outside of the Sydney Apple Store on George Street, in comparison to the hundreds who typically show up for an iPhone launch. Most Apple customers are likely waiting for the iPhone X, coming November 3.

Apple Taipei 101
Since the devices launched in other countries, the first sets of unboxing, speed test, and durability videos have been
posted online
. The iPhone 8 is said to be as resistant to scratches as the iPhone 7, but it emerged from a bend test with higher marks than the previous generation iPhone models.

Apple Regent Street, London
For the Apple Watch Series 3 Apple has made improvements to the wearable's health and fitness metrics, improving heart rate sensing and enhancing a few user interface elements in watchOS 4 to make it easier to sync to gym equipment and be warned of an elevated heart rate. Series 3 models also include faster dual-core processors and LTE connections in cellular models, letting users stream Apple Music, send texts, and more without needing their iPhone nearby.

Apple Sydney
Apple also launched the Apple TV 4K today, which introduces the ability to view 4K HDR content on Apple's set-top box. The company confirmed yesterday that the new 4K content on iTunes is
limited to streaming only
, and can't be downloaded directly to the Apple TV to view offline, so only HD quality versions of films and below can be downloaded.
For more information on all of the new Apple products launching today, be sure to check out our roundups for each of the iPhone 8 and 8 Plus, Apple Watch Series 3, and fifth-generation Apple TV 4K.