Apple on Tuesday announced the iPhone 8, iPhone 8 Plus, and iPhone X, all of which will launch with inductive wireless charging support on Qi-compatible accessories. Since Apple's first-party "AirPower" mat won't be available to buy until 2018, new iPhone owners will be left to sift through the current market of Qi-compatible wireless charging pads, which is pretty large.
For this reason, we've rounded up a few Qi accessories that are currently discounted and that should work with the iPhone 8 and iPhone X, most hitting below the $30 range. We've also included a few Qi charging pads that are confirmed iPhone 8/X compatible that accessory makers like Belkin and Mophie announced this week alongside Apple's big unveiling of each smartphone. Since virtually any Qi-supported charging pad should work with the new iPhones, buying decisions will come down to personal preferences of design, size, and color.

Qi Chargers Under $60

Choetech's T511 charging pad comes in blue and black, and includes a battery light indicator on the front side of the device to confirm that the inductive wireless charging connection has been made with the smartphone. The small pad measures at 3.6 inches on all sides, and is one of the most popular and inexpensive Qi pads currently on Amazon. The downside is that it doesn't come with a micro-USB cable, which you'll need to connect the pad to a wall outlet or USB port, priced at about $5-$10 on Amazon.

Aukey's wireless charger is slightly smaller than Choetech's with a 3.4-inch diameter across its circular footprint. It has a flashing LED to indicate when the smartphone sitting atop it is charging, and the USB power cable is included.

Anker's fast charging pad delivers 10 watts of power to smartphones, but will likely function like other 7.5W mats when used with the iPhone 8 and iPhone X, since those devices are believed to reach only half (7.5W) of current Qi standards (15W). Anker's solution has non-disruptive LEDs surrounding the pad to indicate the smartphone's charge, a non-slip pad, and measures 3.4 inches on all sides.

Samsung even has a few Qi-compatible charing accessory options that should work with iPhone 8 and iPhone X, including a Fast Wireless Charging Pad (again note such fast charging features will be incompatible with iPhone devices). This one is available in black sapphire and white, includes an LED indicator halo, and is slightly more elevated in comparison to other Qi mats. You can find the same Samsung accessory for nearly 50 percent off from select Walmart resellers, as well.

Incipio has quite a few Qi chargers, two of which it lists as iPhone-compatible options: the Ghost Qi 3-Coil base and Ghost Qi 15W base. Both are priced at $59.99, with the standout differences related to the design and shape of each base. The 3-Coil is a rectangle measuring 5.37 inches by 2.73 inches, while the 15W is a simple 3.5-inch square. Both come in black, have the usual LED indicator lights, and provide audio cues when the charging begins and ends.

Upcoming Qi Chargers

Opening for orders this Friday, September 15, Belkin's BOOST UP Wireless Charging Pad has been specifically designed for the iPhone 8, 8 Plus, and X. Belkin said it worked closely with Apple when designing and optimizing the pad, and it'll provide charge to the iPhone through "most lightweight cases" up to 3mm thick. The 7.5W pad has a battery indicator LED, non-slip surface, and AC adapter included. Belkin's accessory will be sold on Apple.com and in Apple stores as well.

Mophie was directly mentioned during Apple's keynote as an accessory maker coming out with support for the iPhone 8 and X's wireless charging features, with a device called the Mophie Wireless Charging Base. A pre-order date has not yet been confirmed, but we do know Mophie's solution provides the expected 7.5W of power to an iPhone when placed on its small, circular, and rubberized base. It'll also be available from Apple.
If you want to buy a Mophie Qi charging pad right now, the company's Charge Force Wireless Charging Base is a universal Qi solution with noted support for the upcoming iPhones, priced at $39.95 from B&H Photo.

Griffin's upcoming PowerBlock Wireless Qi Charging Pad provides 15W of power to compatible Qi devices when placed on its synthetic wool surface. Griffin notes compatibility with all of the new iPhones, but no release date has been confirmed.

RavPower has revealed a new Qi charging pad, confirming compatibility with Apple devices and coming sometime this fall. RavPower's base is a bit unique in comparison with other companies since it can both sit flat on a surface, or act as a sort of iPhone dock with an angled stand. The accessory maker said the product will be available in either a standalone charging pad or pad + stand bundle.

Public Qi Chargers


There will be multiple options for wirelessly charging your iPhone when you're out and about in public spaces, thanks to the confirmation of Apple support from a few inductive wireless charging companies. One is Aircharge, which confirmed that iPhone 8, 8 Plus, and X owners will be able to use the company's own app to locate nearby public Aircharge locations, which amount to 5,000 around the world. These are in restaurants, cafes, shops, hotels, airports, and train stations.

"We're a long time partner of Apple via its MFi program and we're excited Qi wireless charging is now a standard feature in the new iPhone models. The inclusion of wireless charging from a major mobile phone and tech manufacturer like Apple will accelerate and drive widespread consumer awareness and mainstream adoption", said Steven Liquorish, founder and CEO of Aircharge.
Powermat made a similar announcement this week, confirming that owners of the iPhone 8, 8 Plus, and X will be able to charge their smartphones on Powermats "around the world." Powermat locations support the Qi standard, and the company has a supported app so users can discover where the closest pad is to their location, including places like Starbucks and Samsung stores.

AirPower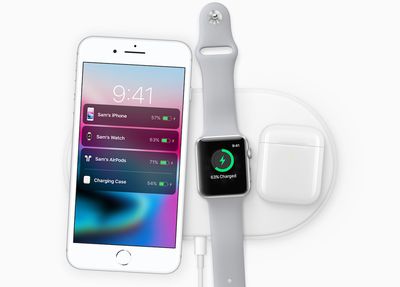 Of course, Apple's own first-party solution for your home will arrive sometime next year. Apple's mat, unlike the ones mentioned above, will be able to support as many as three Qi devices, and Apple has shown an iPhone, Apple Watch Series 3, and AirPods all charging at once on AirPower. When one device is placed next to the iPhone X (or 8/8 Plus), they alert the iPhone, which displays a notification message on the lock screen confirming the presence of the Apple Watch/AirPods along with the battery level.
Although unconfirmed by Apple, Macworld has reported that all previous generations of the Apple Watch will work on AirPower, including Series 2 and Series 0 devices. (Update: An Apple support document indicates that only Series 3 models will be compatible with AirPower.)
For more information on prices for current and upcoming Qi inductive wireless chargers -- which includes bedside tables and lamps from IKEA -- check out the MacRumors Deals Roundup.
Note: MacRumors is an affiliate partner with some of the these vendors.