Live Coverage of Apple's iPhone X Event at Steve Jobs Theater
Apple's first-ever event at the Steve Jobs Theater begins at 10:00 a.m. Pacific Time, where it is widely expected to unveil the iPhone X, a new Apple TV with 4K video, and Apple Watch Series 3 models with LTE connectivity.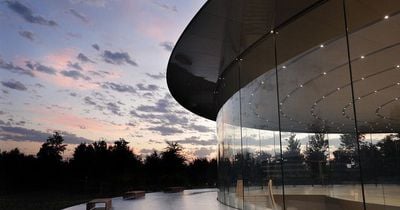 Steve Jobs Theater via Apple CEO Tim Cook
We should also be hearing final details and the official release date for iOS 11, and likely macOS High Sierra, watchOS 4, and tvOS 11 as well. And, of course, there may be plenty of other announcements and surprises in the cards.
Apple is providing a live video stream on its website and via the Apple Events app on Apple TV. We've shared instructions on how to watch along with a list of when the keynote starts in time zones around the world.
In addition to Apple's video stream, we will be updating this article with live blog coverage—no need to refresh—and issuing Twitter updates through our @MacRumorsLive account as the keynote unfolds.
Highlights from the event and separate news stories regarding today's announcements will go out through our @MacRumors account.
Sign up for our newsletter to keep up with Apple news and rumors.
Apple's online store is currently down in advance of the event. It should be accessible again shortly after the keynote.
Apple's event has concluded. Liveblog updates are available after the break...

8:23 am: Just about 90 minutes to go until Apple's event! Stay tuned for updates.
8:37 am: The media and other invitees, including Apple co-founder Steve Wozniak, have picked up their badges and entered Steve Jobs Theater.


8:40 am: Photo credit: James Martin / CNET


8:41 am: Here's a look at Apple's media badges for the event. Photo: Rich DeMuro/KTLA


8:43 am: A gorgeous shot of Apple Park headquarters from the Steve Jobs Theater. Photo credit: Jim Dalrymple/The Loop


8:49 am: Look, it's @SteveWoz! Photo credit: Mike Murphy/Quartz
9:00 am: One hour to go!


9:10 am: A few people have spotted Apple design chief Jony Ive among the crowds. Photo credit: Neil Cybart/Above Avalon
9:16 am: Invitees are waiting both inside and outside of Steve Jobs Theater to be seated. Just under 45 minutes to go!


9:31 am: Invitees are walking down the staircase and entering the actual theater underground. Photo credit: Josh McConnell/Financial Post


9:44 am: Here's what each seat looks like at Steve Jobs Theater. Photo credit: Lance Ulanoff/Mashable.


9:52 am: Apple executives Craig Federighi (SVP of Software Engineering) and Kevin Lynch (VP of Technology) are on scene! Photo credit: Geoffrey A. Fowler/WSJ
9:55 am: Just about 5 minutes until the show gets underway!
10:02 am: "Welcome to the Steve Jobs Theater" on screen with a speech from Steve Jobs.
10:03 am: Apple CEO Tim Cook comes on stage and says "It's only fitting that Steve should open his theater."



10:06 am: Cook: Steve meant so much to me and so much to all of us. There's not a day that goes by that we don't think about him. Memories have especially come rushing back as we prepared for today and this event. It's taken some time, but we can now reflect on him with joy, instead of sadness. Steve's spirit and timeless philosophy on life will always be the DNA of Apple. His greatest gift, his greatest expression of his appreciation for humanity, would not be a single product. Rather, it would be Apple itself. We dedicated this theater to Steve because we loved him, and because he loved days like this, where we can share our latest products and ideas with the world. We do so not only to pay tribute to Steve, but to inspire the next generation of creators and innovators. Steve was a genius, and one of the many ways that he showed that was in his uncanny ability to unlock the talent of everybody that he worked with. He thought deeply about our workplace, and its surroundings, and he believed they should inspire talented people to do their best work. So, over a decade ago, he began to work on a new campus for Apple.
10:06 am: Cook: Steve's vision and passion live on here at Apple Park, and everywhere at Apple. Today, and always, we honor him.
10:07 am: Cook: We're here today to talk about some incredible products. Before we get to that, I'd like to take a moment and talk about what's happening in Florida, Texas, the southeastern United States, and across the Caribbean.


10:08 am: Cook extends his best wishes to those affected by Hurricane Harvey and Hurricane Irma, and talks about Apple's involvement in the Hand in Hand: A Benefit for Hurricane Relief Fund telethon.


10:10 am: Cook: We'll start moving into Apple Park later this year. Such a move is more of a process. The first big step is the opening of the Steve Jobs Theater. It's the most state of the art, purpose-built theater built just for events like this one. Caters to both technology and the environment. Connects extraordinary buildings with rolling hills for an inspiring workplace. Designed to be seamless with nature — it's open, transparent, and brings the outside in. It connects everyone to the beautiful California landscape. Powered by 100% renewable energy.
10:11 am: Tim Cook invites Apple retail chief Angela Ahrendts on stage for a retail-focused update.


10:12 am: Ahrendts: I love the fact that the same team that designed Apple Park designed our largest retail stores around the world. Funny — we don't call them stores anymore, but rather town squares. 500 million visitors each year. What brings it all to life is our incredible teams — our people. The people are the biggest differentiators and humanize technology. We think of Apple Retail as our largest product.
10:13 am: Ahrendts is going over newer Apple Store features such as the Genius Grove and The Avenue shopping windows.


10:16 am: A video was shown of "Today at Apple" sessions at its retail locations, which are focused on topics such as coding, art, music, design, and photography.


10:17 am: Ahrendts: We're opening up the plaza at the Fifth Avenue store in Manhattan to let natural light in. The underground level will be greatly expanded. Apple Fifth Avenue will reopen late next year.
10:17 am: Ahrendts: We've recently announced an ambitious project to open a retail location at Carnegie Library in downtown Washington D.C.
10:18 am: Ahrendts: Apple's new Michigan Avenue location in Chicago opens October 20, 2017.


10:18 am: Ahrendts: As Tim said, Apple's retail purpose has always been to enrich lives. So a huge thank you to the 65,000 Apple retail employees around the world for their passion and commitment.
10:18 am: Tim Cook is back on stage.
10:19 am: Cook: Let's get going on telling you what we're going to launch today, beginning with Apple Watch.


10:20 am: Cook: Apple Watch was designed to help people stay active, motivated, and connected, so they can live a better day. I'm happy to tell you more people are doing that than ever before. Since the launch of the Apple Watch Series 2, Apple Watch has experienced phenomenal growth. Last quarter, Apple Watch sales grew 50% year-over-year.
10:20 am: Cook: Apple Watch is now the best-selling watch—not just smartwatch—in the world. Industry-leading customer satisfaction rate of 97%.
10:21 am: "Dear Apple" video playing with customers talking about how Apple products have enriched their lives.
10:23 am: And, in some cases, the Apple Watch has even saved lives by bringing health concerns to the wearer's attention.
10:24 am: Cook: We have some great news about the future of Apple Watch, and to share it with you, I'd like to invite Apple COO Jeff Williams up.


10:24 am: Williams is recapping new watchOS 4 features, such as GymKit.
10:25 am: Williams: Today, the Apple Watch's heart rate monitor is the most used heart monitor in the world.
10:25 am: Williams: We're making advancements to the heart rate app. When you launch the heart rate app, you'll see new measurements, such as resting heart rate. Apple Watch calculates this daily.


10:26 am: Williams: The second thing we're doing is inspired by many of the letters we receive from customers who notice an abnormally high heart rate when they wouldn't expect one. But most customers wouldn't notice, so we're adding a feature. Now, Apple Watch will notify you when you have a high heart rate when you aren't being active.
10:27 am: Williams: Atrial fibrillation affects tens of millions of people and often goes undiagnosed. We've been looking at this for years, and we think we can help. Today, we're announcing the Apple Heart Study.
10:27 am: Williams: It will use data from Apple Watch and analyze arrhythmias, including atrial fibrillation. The first phase of the study will be available on the App Store later this year.
10:28 am: William: watchOS 4 will be available to all Apple customers on September 19.


10:28 am: Williams: Now, I'd like to introduce the next generation of Apple Watch.
10:28 am: Introductory video playing.


10:29 am: Williams: It has cellular built in.
10:29 am: Williams: Now you have the freedom to go anywhere with just your Apple Watch. This has been our vision from the very beginning. We believe built-in cellular makes Series 3 the ultimate expression of Apple Watch.
10:29 am: Williams: You can receive an important call with just your Apple Watch — and it uses the same phone number as your iPhone.


10:30 am: Williams: Coming next month, cellular is going to change the way we listen to music, because with Apple Watch Series 3 and Apple Music, you can stream 40 million songs on your wrist.
10:30 am: Beats 1 included.


10:31 am: Williams: We have packed Apple Watch Series 3 with the most powerful hardware in a watch. New dual-core processor that delivers 70% more performance.
10:31 am: Williams: Apple-designed W2 chip. 85% faster Wi-Fi, 50% more power efficient.
10:32 am: Siri can now talk on Apple Watch Series 3.
10:33 am: Williams: The display itself is the multifrequency antenna for both LTE and UMTS. Integrated electronic SIM.
10:33 am: Williams: Despite adding all of these things, the case for Apple Watch Series 3 is the same size as Apple Watch Series 2.
10:34 am: The back crystal is just .25mm thicker.


10:35 am: Jeff Williams demoed the Apple Watch Series 3 making a call — so it will be able to make calls on its own.
10:36 am: Williams: The call quality on Apple Watch Series 3 is "just darn close to magic."




10:39 am: Apple Watch Series 3 comes in two versions. One with cellular and Wi-Fi from $399. One with just Wi-Fi from $329. Apple Watch Series 1 remains from $249.
10:40 am: Apple Watch Series 3 pre-orders start September 15. Launch/availability on September 22.
10:41 am: US, Australia, UK, Canada, China, Japan, and more among the first wave of launch countries.
10:41 am: Next up is Apple TV.
10:42 am: Cook: "We're at the next major inflection point. One that has the most stunning visuals ever that are ideal for large TV screens."
10:42 am: Cook: That's why I'm so excited to introduce Apple TV 4K.
10:42 am: Cook invites Apple services chief Eddy Cue on stage to discuss more.


10:43 am: Cue: Apple TV 4K is incredible, and it starts with two big advancements in picture quality. First is 4K.
10:43 am: Cue: 4K has four times the number of pixels as HD. But resolution isn't everything. There's an even more important factor: HDR, or High Dynamic Range. Apple TV 4K supports HDR10 and Dolby Vision.


10:44 am: Cue: Apple TV 4K with HDR delivers the highest picture quality ever.
10:44 am: Demo.
10:44 am: Cue: We've remastered our Apple TV screensavers to take full advantage of 4K HDR.
10:45 am: Apple is showing a clip of the new Spider-Man: Homecoming movie coming to iTunes later this month.
10:46 am: Cue: At the heart of the Apple TV 4K is the Apple A10X chip, the same one used in the iPad Pro.



10:48 am: A10X chip: Up to 2x CPU performance, up to 4x GPU performance compared to the A8 in the previous Apple TV.
10:48 am: Netflix 4K HDR titles are coming to Apple TV, and later this year, Amazon Prime Video will be available.
10:48 am: Live sports are coming to Apple TV later this year. Live news is coming to the TV app.


10:50 am: Apple TV app is coming to Canada and Australia later this month. Select other countries later this year.


10:51 am: Demo of new Apple TV game from That Game Company.
10:52 am: The game is called Sky and it's coming later this year.
10:54 am: Cue: New Apple TV 4K starts at $179. Available to order September 15. Launches/available September 22.


10:55 am: Apple TV 4K: 32GB costs $179. 64GB costs $199. The fourth-generation Apple TV remains available in 32GB for the same $149 — no price cut.
10:55 am: Tim Cook is back on stage, talking about the evolution of the iPhone over the past decade.
10:55 am: Cook: The first iPhone introduced Multi-Touch. For the first time, you were actually touching the software. It was magical.
10:56 am: Cook: We took the viewing experience to levels never seen before with the Retina display.
10:56 am: Cook: FaceTime and iMessage allow us to connect in more meaningful ways.
10:56 am: Cook: iPhone even revolutionized security and privacy with Touch ID and our wallets with Apple Pay.
10:56 am: Cook: And, of course, iPhone put easy to use cameras in our hands, becoming the most popular way to capture images of our lives.
10:57 am: Cook: Now, we can create devices that are far more intelligent, far more capable, far more personable than ever before. We have huge iPhone news for you today, and it gets started right now.
10:57 am: Introductory video.


10:57 am: iPhone 8.
10:58 am: Cook: This is a huge step forward for iPhone, and to tell you all about it, I'd like to invite Apple marketing chief Phil Schiller to tell you more about it.
10:58 am: iPhone 8 and iPhone 8 Plus.


10:58 am: Schiller: Design is all new. Glass on both front and back. Aluminum band matches the finish of each iPhone. Silver, Space Gray, and new Gold finish.
10:59 am: Schiller: Aerospace-grade 7000-series aluminum. 50% deeper strengthening layer. Most durable glass ever in a smartphone.


10:59 am: Schiller: Microscopically sealed for water and dust resistance. 4.7-inch and 5.5-inch Retina displays.
10:59 am: Schiller: For the first time in an iPhone display, there is True Tone technology.
11:00 am: iPhone 8 and iPhone 8 Plus speakers have deeper bass.
11:00 am: iPhone 8 and iPhone 8 Plus have a new A11 Bionic chip.


11:01 am: Two performance cores. 25% faster than A10. Four high-efficiency cores. 70% faster than A10 chip. 2nd-gen Apple-designed performance controller with 70% faster multitasking workloads.
11:02 am: New image signal processor. Faster autofocus, new pixel processor for better sharpness and texture.


11:02 am: New 12-megapixel camera with deeper pixels and a new color filter. Wider dynamic range and lower noise in photos and videos.
11:04 am: iPhone 8 retains a single-lens camera. iPhone 8 Plus has a horizontally-aligned dual-lens camera still. Wide-angle lens has f/1.8 aperture and telephoto lens has f/2.8 aperture.
11:04 am: Schiller showing example photos and reviewing features such as Portrait Mode.
11:05 am: New beta feature called Portrait Lighting. Compose a photo in Portrait mode of Camera app, and then subject gets separated from the background. Machine learning creates facial landmarks and changes the lighting of the subject's face, while you are composing the shot. Fancy stuff.


11:06 am: Schiller: iPhone 8 and iPhone 8 Plus are incredible for video. Highest-quality video capture in a smartphone ever.
11:07 am: Apple-designed video encoder with faster frame rates.
11:07 am: 4K video at 60 FPS.
11:07 am: 1080p video at 240 FPS.


11:08 am: iPhone 8 and iPhone 8 Plus hardware is custom tuned for augmented reality. Camera calibrated. Low-light and 60 FPS. New gyroscope and accelerometer.
11:08 am: Augmented reality greatly benefits from new A11 Bionic chip.
11:09 am: AR demo of Warhammer 40,000 by Pixel Toys.
11:09 am: Other AR demos being shown.



11:13 am: Schiller: Now, let's talk about wireless.
11:13 am: Schiller: We once said the future was wireless. Boy, were we right.
11:14 am: iPhone 8 and iPhone 8 Plus support LTE-Advanced and Bluetooth 5.0.
11:14 am: iPhone 8 and iPhone 8 Plus feature wireless charging.


11:14 am: Schiller: This is a simple thing. We do this everyday. We use our phones during the day, and charge them at night. Words can't describe just how much nicer it is to put it down and pick it up whenever you want to charge.
11:15 am: It's inductive charging — you put the iPhone on a charging pad — based on Qi standard.
11:15 am: Charging pads will be available from Mophie, Incipio, Belkin, and other accessory makers.



11:16 am: Other iPhone 8 and iPhone 8 features: fast charging capable, Touch ID, stereo speakers, quad-LED camera flash.
11:17 am: iPhone 8 and iPhone 8 Plus will be available in 64GB and 256GB storage capacities from $699 and $799 respectively.
11:17 am: Orders start September 15. Launch/availability September 22.
11:17 am: Tim Cook: "One more thing..."


11:17 am: "The future of the smartphone."
11:18 am: Cook: Ten years later, it is only fitting that we are here, in this place, on this day, to reveal a product that will set the path for technology for the next decade.
11:18 am: Introductory video.


11:19 am: iPhone X.
11:19 am: Cook: "This is iPhone Ten."


11:19 am: Schiller: "There were a lot of people at Apple that didn't get much sleep last night preparing for this."


11:20 am: Nearly edge-to-edge display and vertically-aligned dual-lens rear camera. Notch at the top for the front-facing camera and earpiece.
11:20 am: Water and dust resistant at a microscopic level.
11:20 am: Space Gray and Silver.
11:21 am: Super Retina Display.
11:21 am: 458 PPI.
11:21 am: Highest pixel density in an iPhone ever.
11:21 am: The display is 5.8-inches, 2436x1125 resolution. 2.7 million pixels.




11:22 am: Tap to wake the display.
11:23 am: Swipe up from the bottom to go to the Home screen.
11:23 am: Works the same way across the entire iOS system.


11:23 am: Swipe up from the bottom and pause for a second to view the multitasking screen.
11:24 am: Siri is now activated via a double tap on the side button or "Hey Siri" as usual.
11:25 am: Face ID — unlock iPhone X with your face.



11:26 am: Front notch is called TrueDepth camera area: infrared camera, flood illuminator, front camera, dot projector, ambient light sensor, microphone. It's positioned above the display, which is OLED.


11:27 am: A11 Bionic chip has a built-in neural engine to process facial recognition. Specialized hardware for machine learning algorithms.


11:28 am: Face ID has a simple setup process where you move your face in a circular motion until it learns your face.
11:28 am: Face ID can adapt to your face, such as if you grow a beard. It works day and night.


11:29 am: Face ID is secure, with protections against spoofs such as a photo of someone's face.


11:29 am: Face data protected by A11 chip's secure enclave. On-device processing.
11:29 am: Schiller: 1 in 50,000 chance that Touch ID can be compromised with a random person's finger. With Face ID, it's 1 in 1,000,000.
11:30 am: Schiller: The chance someone else could look at your iPhone and unlock it with their face is 1 in 1,000,000 — unless you have an identical twin.


11:31 am: There doesn't appear to be Touch ID on iPhone X as expected.
11:31 am: Schiller introduces Animoji — animated emojis controlled with your face on iPhone.


11:32 am: Animoji can be used in the Messages app — there's a dozen to choose from, such as a robot, monkey, cat, dog, and fish.


11:33 am: Schiller invites Apple software engineering chief Craig Federighi on stage to provide the first live look at iPhone X — again, pronounced iPhone Ten.


11:35 am: Federighi is demoing iOS 11 on iPhone X, and shows off how landscape video looks on the nearly edge-to-edge display.



11:37 am: Federighi shows off Face ID. Raise the iPhone X, look at it, swipe up, and it quickly unlocks.
11:37 am: Federighi shows off Animoji.


11:39 am: Phil Schiller is back on stage to talk about the iPhone X camera.



11:40 am: iPhone X has a 12-megapixel dual-lens camera. Larger and faster sensors. New color filter. Deeper pixels. f/1.8 aperture on wide-angle lens and faster f/2.4 aperture on telephoto lens. Dual optical image stabilization. Quad-LED True Tone Flash.
11:41 am: Schiller shows off a few photos.
11:42 am: iPhone X front-facing TrueDepth camera allows for Portrait Mode selfies with Portrait Lighting.


11:42 am: Schiller: People are going to be blown away with the selfies you can take with iPhone X.



11:45 am: iPhone X battery life is up to 2 hours longer than iPhone 7. Like iPhone 8 and iPhone 8 Plus, the iPhone X supports wireless charging based on Qi standard.
11:45 am: Apple is designing a new wireless charging accessory that will charge the iPhone 8/iPhone 8 Plus/iPhone X and the Apple Watch Series 3.
11:45 am: It's called AirPower and it launches next year.
11:46 am: iPhone X video playing.



11:49 am: AirPower will also be able to charge a new optional wireless charging case for AirPods.
11:50 am: iPhone X comes in 64GB and 256GB. Priced from $999. Pre-orders October 27. Available on November 3.



11:52 am: iPhone 7 remains from $549. iPhone 7 Plus is likely $649 and up. iPhone 6s remains from $449. iPhone SE starts at $349.
11:54 am: Cook: "One of the ways that I believe people express their appreciation to the rest of humanity is to make something wonderful and put it out there." — Steve Jobs. We hope you love what we've put out today. We think Steve would be really proud of them. I'd like to thank everyone at Apple that made this possible today. Cook invites those employees in the crowd to stand up.
11:55 am: There's a hands-on area for the media after the event.
11:55 am: Cook: "Thank you so much for spending the morning with us!"


11:55 am: The keynote has concluded. Stay tuned to MacRumors.com for complete coverage of today's announcements.