Apple's first-ever event at Steve Jobs Theater will take place tomorrow, Tuesday, September 12, at 10:00 a.m. Pacific Time. As usual, Apple will be providing a live stream of the event on its website.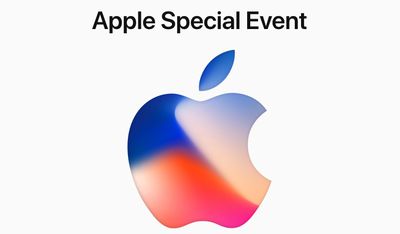 Here's when the event will begin based on other time zones in the United States and around the world:
Honolulu, Hawaii — 7:00 a.m. HAST

Anchorage, Alaska — 9:00 a.m. AKDT

Cupertino, California — 10:00 a.m. PDT

Phoenix, Arizona — 10:00 a.m. MST

Vancouver, Canada — 10:00 a.m. PDT

Denver, Colorado — 11:00 a.m. MDT

Dallas, Texas — 12:00 noon CDT

New York, New York — 1:00 p.m. EDT

Raleigh, North Carolina — 1:00 p.m. EDT

Toronto, Canada — 1:00 p.m. EDT

Halifax, Canada — 2:00 p.m. ADT

Rio de Janeiro, Brazil — 2:00 p.m. BRT

London, United Kingdom — 6:00 p.m. BST

Berlin, Germany — 7:00 p.m. CEST

Paris, France — 7:00 p.m. CEST

Cape Town, South Africa — 7:00 p.m. SAST

Moscow, Russia — 8:00 p.m. MSK

Helsinki, Finland — 8:00 p.m. EEST

Istanbul, Turkey — 8:00 p.m. TRT

Dubai, United Arab Emirates — 9:00 p.m. GST

Delhi, India — 10:30 p.m. IST

Jakarta, Indonesia — 12:00 a.m. WIB next day

Shanghai, China — 1:00 a.m. CST next day

Singapore — 1:00 a.m. SGT next day

Perth, Australia — 1:00 a.m. AWST next day

Hong Kong — 1:00 a.m. HKT next day

Seoul, South Korea — 2:00 a.m. KST next day

Tokyo, Japan — 2:00 a.m. JST next day

Adelaide, Australia — 2:30 a.m. ACST next day

Sydney, Australia — 3:00 a.m. AEST next day

Auckland, New Zealand — 5:00 a.m. NZST next day
Mac and PC users using Safari or Microsoft Edge respectively can simply visit Apple's event page to watch the live stream once it goes live a few minutes before the keynote. The live stream cannot be viewed on alternative web browsers, such as Google Chrome, Mozilla Firefox, or Internet Explorer.
Likewise, the event can also be streamed on any iPhone, iPad, or iPod touch running iOS 7 or later. Simply open the Safari app and navigate to Apple's event page to watch the live stream once it goes live. Third-party browsers may not work.
On the fourth-generation Apple TV, the live stream can be watched by downloading the free Apple Events app from the tvOS App Store [Direct Link]. Third-generation Apple TV users will likely have to wait until the Apple Events app automatically appears on their home screen. No software update is required.
At the event, Apple is expected to announce a trio of new iPhone models, including the so-called "iPhone X" with an OLED display, wireless charging, and facial recognition. Apple Watch Series 3 models and a new Apple TV with 4K video streaming capabilities are also rumored to be unveiled during the keynote.