Major App Developers Show Off ARKit Apps Ahead of iOS 11 Launch
Apple this week invited several media sites to its Cupertino campus to show off some upcoming ARKit apps being developed by major companies like The Food Network, Ikea, Giphy, and AMC, according to CNBC, The Verge, and TechCrunch.
Ikea demonstrated its previously announced "Ikea Place" app, designed to allow users to preview what Ikea furniture will look like in their homes ahead of a purchase. The Verge says it's highly customizable, letting users see the size, materials, and texture of furniture.
The Food Network is developing an app that will let users create custom digital desserts that can then be reproduced in real life through a custom recipe, while AMC and Next Games have teamed up for an augmented reality zombie game called "The Walking Dead: Our World."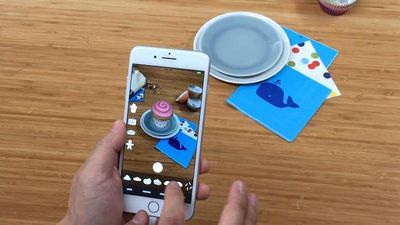 Image from CNBC


GIF app Giphy plans to introduce tools that will let GIFs be added to the real world, and Climax Studios CEO and developer Simon Gardner showed off an upcoming AR game called Arise, which is an augmented reality puzzle game solved by tilting the iPhone to steer a character through the level.
The Very Hungry Caterpillar, a popular children's story turned into an app, will take advantage of ARKit to offer kids a chance to raise a virtual caterpillar, feeding it until it turns into a butterfly.

Image from Apple, via The Verge


All of the developers present had the same general opinion about ARKit according to The Verge -- it "could be the real game changer in AR." Many of the developers said it was simple to create an ARKit app, sometimes taking just 7 to 10 weeks to develop. For more on these ARKit apps, make sure to check out the full reports from CNBC, TechCrunch, and The Verge.
Along with these official looks at ARKit, we've also seen several developer concepts surfacing in the months since ARKit was announced. Check out our previous coverage for details on what will be possible with the new feature:
- ARKit Roundup: Turn-by-Turn Directions, Precise Room Measurements, and Pac-Man
- Apple's ARKit Used to Recreate Classic A-ha 'Take On Me' Video
- Apple Users' Mixed Reality Future Teased in Latest ARKit Demo
- Latest Apps to Showcase Apple's ARKit Include Simple Measuring Tape and Minecraft
- Developers Share First Augmented Reality Creations Using Apple's ARKit
- Latest ARKit Demo Showcases Virtual Drawing
- Latest ARKit Demos Include Sculpting, Food Ordering, Virtual Pets and Zombies
The first ARKit apps will launch in September following the public debut of iOS 11. When iOS 11 and ARKit become available, Apple's iPhones and iPads will instantly become the largest augmented reality platform in the world. ARKit will be available on all Apple devices with iOS 11 and an A9 processor or better (iPad Pro and iPhone 6s/6s Plus and later).