iOS 11 Beta Files Reference New Apple Watch Workouts for Dancing, Bowling, Skating, and Many More
This year's Apple leaks have seen an uptick in activity thanks to data gathered from HomePod firmware, as well as internal files in pre-release beta software for iOS 11. Today, the newest piece of information comes from the latter source and concerns new exercises for the Apple Watch.
Snow-based workouts have already been uncovered in the HomePod's firmware, and now iHelp BR has found a few code strings and icons within the iOS 11 developer beta that reference a plethora of new workouts for Apple's Workout app. These include: basketball, bowling, climbing, cricket, cross-country skiing, curling, dance, equestrian sports, fencing, fishing, golf, gymnastics, jump rope, pilates, skating, surfing, and more.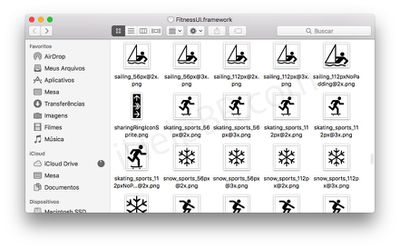 It's unclear whether or not the new workouts will be exclusive to the upcoming "Apple Watch Series 3," or available to all Apple Watch owners through the public release of watchOS 4. Some workouts might require equipment specific to the next-generation of Apple Watch -- similar to swimming and Apple Watch Series 2 last year -- but it's unclear which workouts those might be, if any.
On current iterations of watchOS and the Apple Watch, users can track exercises related to a Walk (Indoor and Outdoor), Run (Indoor and Outdoor), Cycle (Indoor and Outdoor), Swim (Pool and Open Water), Elliptical, Rower, Stair Stepper, and "Other." After finishing an "Other" workout, the Apple Watch allows users to choose a more specific label from a variety of options, like "Strength Training," but these don't have any direct impact on the metrics used to track a workout.

If the newly uncovered workouts become a reality in this year's Apple Watch software, it would mark a noticeable addition for exercise-focused Apple Watch wearers beyond the twelve options currently available. Although it wasn't detailed in the code findings, it's likely that the potentially new workouts will measure user data like active calories, total calories, heart rate, and more specific metrics pertaining to the exercise in question.
Apple is predicted to announce the Apple Watch Series 3 at its iPhone 8 reveal event in September, which we should be getting a date confirmation for at some point this week. Current rumors suggest the event could be held in the second week of the month, on September 12, but the first week is also a possibility, with an event as early as September 6.
One confirmed new workout that users can expect in watchOS 4 is High Intensity Interval Training, or HIIT, which Apple announced during WWDC this past June. Users will also be able to link together multiple workouts so they can see their overall calorie data and time measurements in one place.