Apple Discontinues iPod Nano and iPod Shuffle
Apple today removed the iPod nano and iPod shuffle from its website and online store around the world, and it has since confirmed the iconic portable media players have been discontinued. Apple continues to sell the iPod touch with updated pricing and storage, including a 32GB model for $199 and 128GB model for $299.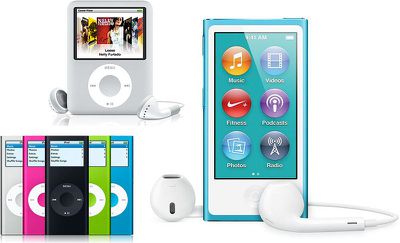 For now, it appears the iPod nano and iPod shuffle are still available to purchase at many Apple Stores and other resellers, but that likely won't be the case for too much longer. In the United States, the latest iPod nano started at $149 with 16GB of storage, while the iPod shuffle cost $49 with 2GB of storage.
Beyond new colors and storage capacities, Apple had last updated the iPod nano in
October 2012
and the iPod shuffle in
September 2010
. Apple last updated the iPod touch
in July 2015
with an A8 chip and an 8-megapixel rear camera.
Apple introduced the iPod shuffle in January 2005, followed by the iPod nano in September 2005. In total, there were seven generations of the iPod nano, and four generations of the iPod shuffle.


iPod sales had been declining for several years. Apple reported 2.6 million iPods sold in the fourth quarter of 2014. Since then, Apple has grouped iPod sales under its "Other Products" category in earnings results. iPod sales peaked at 54.8 million in 2008, compared to 14.3 million in 2014.
The success of the iPod, first introduced in 2001 by the late Steve Jobs, helped Apple reestablish itself as one of the world's most successful technology companies at the turn of the millenium. But, after the iPhone launched in 2007, the iPod nano and iPod shuffle became increasingly niche products.
Update: "Today, we are simplifying our iPod lineup with two models of iPod touch, now with double the capacity starting at just $199, and we are discontinuing the iPod shuffle and iPod nano," an Apple spokesperson told Business Insider.