Apple Announces All-New iPod Models: Shuffle, Nano and Touch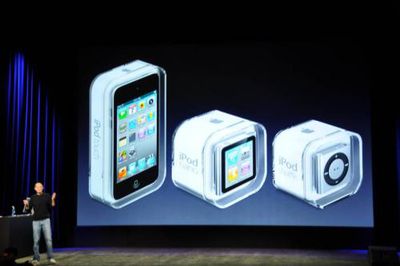 Along with announcing iOS 4.1 and the forthcoming iOS 4.2 for the iPad, Apple announced all-new iPod models at today's keynote event.
The new iPod shuffle will see the return of buttons and will still include the VoiceOver feature that debuted in the last Shuffle model. It also has playlists capability and will take advantage of the Genius Playlists recently introduced. It will have 15 hours of battery life and will come in 5 colors: silver, pink, gold, blue, and green. The 2 GB Shuffle will cost $49.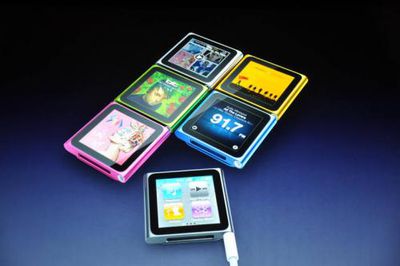 The
iPod nano
has also been updated, removing the click wheel and adding a multi-touch interface to reduce the device's overall size. The new nano is 46% smaller than its predecessor and will have 24-hour battery life.
The nano's new touch interface is similar to that of other iOS devices with a home screen populated with icons to access photos, artists, playlists, control playback, and more. The display's orientation can be manually rotated to accommodate the device's position when clipped to clothing. The nano will come in graphite, pink, blue, silver, green, gold, and a Product Red version will also be offered. It will cost $149 for 8 GB and $179 for 16 GB.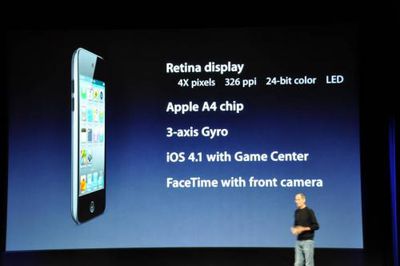 Finally, the
next generation of the iPod touch
includes the Retina Display with 324 pixels per inch that made its debut on the iPhone 4. The new iPod touch will also get Apple's A4 chip, a 3-axis gyroscope, a rear-facing camera that can record HD video, and a front-facing camera that will work with Facetime. The iPod touch will have iOS 4.1 with Apple's Game Center and will offer 40 hours of music playback battery life. The iPod touch will cost $229 for the 8 GB model, $299 for 32 GB, and $399 for 64 GB.
All new iPod models will be available starting next week and are available for pre-order on Apple's site today.