New iPod Touch and iPod Nano Begin Shipping, Photos and Benchmarks Posted
Numerous MacRumors readers have reported that their orders for Apple's new fifth-generation iPod touch and seventh-generation iPod nano have shipped, with delivery due for late this week or early next week. The news is in line with last week's reports that orders were being prepared for shipment and claims of an official October 9 launch date.
Stores have also begun stocking the new devices, as evidenced by this photo from Japan posted to WeiPhone.com: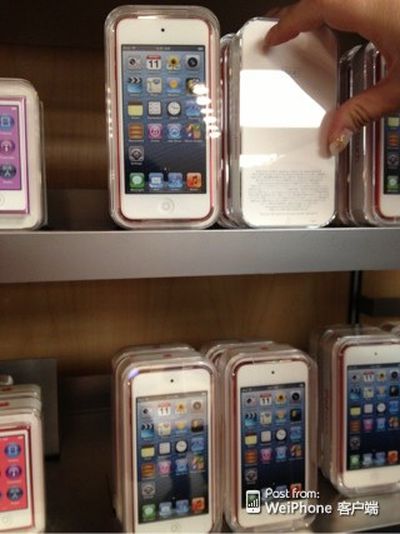 Mac Otakara has already gotten its hands on both the iPod touch and the iPod nano, posting unboxing and comparison photos. The site has also run some system status and benchmarking tools on the new iPod touch, unsurprisingly revealing that the A5-powered device has performance on par with the iPhone 4S.

iOS device overall Geekbench scores

System info on fifth-generation iPod touch
Update
: YouTube user Andreas Pall has posted an unboxing video of the fifth-generation iPod touch from Japan.