Apple's First Retail Location in Taiwan Officially Opens to the Public
Apple officially opened up its first retail store in Taiwan at 11:00 a.m. local time on July 1. Located in Taiwan's capital of Taipei, and called Apple Taipei 101, the store is situated on the ground floor of the Taipei 101 skyscraper. Apple Taipei 101 is another expansion of Apple's next-generation retail plans and features the company's latest store designs and principles, including various "Today at Apple" programs.
Similar to the opening of Apple Orchard Road in Singapore, Apple Taipei 101 is the first major Apple store in its country and has received much attention in the weeks leading up to its grand opening. Apple originally announced the store towards the beginning of June, and then confirmed its July 1 opening date last week.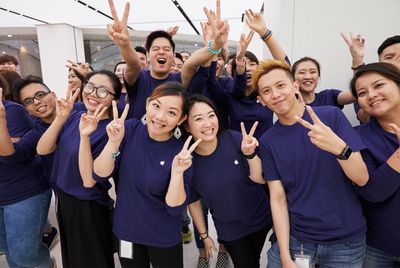 Thanks to our team and all the customers who celebrated the opening of our first store in Taiwan today! https://t.co/Oj51WaBi2u — Angela Ahrendts (@AngelaAhrendts) July 1, 2017
As it does for most store openings, Apple put up a barrier in front of the location with a thematic piece of art to get passersby excited about the grand opening. The new Taiwan location's was a barricade of hand-cut fabric created by Taiwanese artist Yang Shih-Yi, depicting the Banyan tree, a traditional meeting place. Apple even made stickers of the design available on the App Store for iMessage.


Ahead of the opening, Apple noted that customers began lining up outside of the building Friday evening, and eventually "thousands" visited the store throughout its opening day on Saturday.

Crowds of customers started gathering overnight at Taipei 101 for the grand opening of Apple's first store in Taiwan on Saturday. The curved, sliding glass doors opened at 11 a.m. as employees welcomed customers to come together, explore the store and get hands-on with Apple's latest products.
Apple gave an update on the store earlier this week, showcasing a few images of The Forum at Apple Taipei 101 (where Today at Apple will be held), the rows of wooden tables to display products, drawers for iPhone and iPad accessories, and an outside shot of the Taipei 101 skyscraper, the fourth tallest skyscraper in the world. Described but not pictured, Apple Taipei 101 will also include The Boardroom, where the company will give hands-on training to entrepreneurs, developers and other business customers.


Apple began a world-wide expansion of Today at Apple in May, which launched alongside the company's intention to make Apple store locations more of a meeting and gathering place than somewhere that's singularly retail focused. At Apple Taipei 101, there will be 60 free Today at Apple sessions for visitors, where they can learn about photography, video, art, design, music, coding and more, all through different Apple devices.
When the company announced the new sessions would begin expanding worldwide, Apple senior vice president of retail, Angela Ahrendts, said that Today at Apple was catalyzed by Apple's "desire to educate and inspire the communities we serve."