Apple has posted a message on its regional Taiwan website to announce the imminent opening of its first official retail store in the country. The store is located in the Xinyi District, on the ground floor and basement level of Taipei 101, the fourth tallest skyscraper in the world.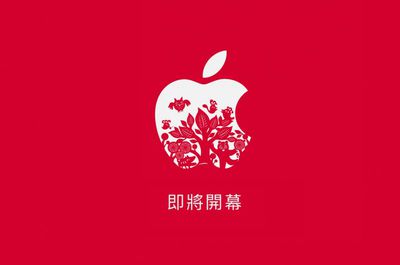 A specific opening date for the store has not yet been provided by Apple, but Taiwanese site AppleDaily speculates it will be by the end of the month, and the wording on Apple's website suggests it can't be far away now. The text on the celebratory page roughly translates to the following:

Taiwan's first Apple Store will soon open in Taipei!

Apple Store - Taipei 101 will provide a space for people to experience Apple's full range of products and services; At the same time, for people to come together to create, share and learn.

Much like how Taiwanese often gather under trees, with a pot of tea, to exchange ideas, share fun, and be prepared for the next journey.

To celebrate the opening, we have invited Taiwanese paper cutting artists, Shih Yi Yan, incorporating the same "tree as a gathering place" theme, to create a large cutout artwork to showcase the beauty of gathering. We welcome everyone to visit the Apple Store when you get a chance.
AppleDaily has grabbed some shots of the hoarding currently concealing the store, which covers 1,322 square meters across two floors.

Image via AppleDaily
Last July, we reported that Apple had posted its first
job listings
for a Taiwan store, which was soon followed by
confirmation
of its plans to set up a retail outlet in the country.

Image via AppleDaily
Apple currently only markets products in Taiwan through third-party resellers and direct through its regional online store, so today's announcement should come as good news for Apple fans there.
The company has opened 495 retail stores across 17 countries, including 270 in the United States and 225 elsewhere, since May 2001. We'll let readers know of the Taipei store opening date as soon as we hear of it.

Taipei 101 from afar (Image: Peellden)
(Thanks, Andrew!)