Spotify Continues to Grow Faster Than Apple Music Thanks to Free Tier
Spotify today announced it now has over 140 million subscribers worldwide, including users that only listen to the free ad-supported tier.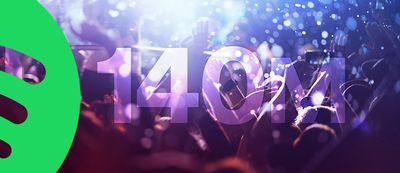 Spotify last said it had over 100 million subscribers in June 2016, so it has gained around 40 million listeners in one year to remain the world's largest streaming music service. Spotify didn't update its number of paying subscribers, which stood at over 50 million worldwide as of March 2017.
By comparison, Apple at its Worldwide Developers Conference last week announced that Apple Music now has 27 million paying subscribers, just weeks before the streaming music service turns two years old. Apple Music doesn't have a free tier, and Apple doesn't regularly disclose how many users are using the free trial.
Last year, Spotify vice president Jonathan Forster said Apple Music has helped, not hurt, their business by raising the popularity of streaming music services overall. He added that, at the time, Spotify was growing more quickly and adding more users since Apple Music launched, a trend that appears to be continuing.
"It's great that Apple is in the game," Forster told Reuters. "They are definitely raising the profile of streaming. It is hard to build an industry on your own."
While many artists remain critical about Spotify's free ad-supported tier, longtime holdout Taylor Swift reversed course last week and made her catalog of music available on most streaming music services. Swift's music was previously exclusive to Apple Music, only after Apple agreed to pay artists during its free trial period.
Spotify's revenue grew more than 50 percent, to $3.3 billion last year, according to the company's latest financial statement. The company has committed to spending more than $2 billion in payments to record labels over the next two years.