Apple Rumored to Discontinue iPad Mini
Waiting for an iPad mini 5? You may be disappointed. BGR, citing a source close to Apple, claims the 7.9-inch tablet is being phased out. The report doesn't offer a timeline as to when the iPad mini will be discontinued, and its sources couldn't confirm if the iPad mini 4 will remain on sale for a period of time.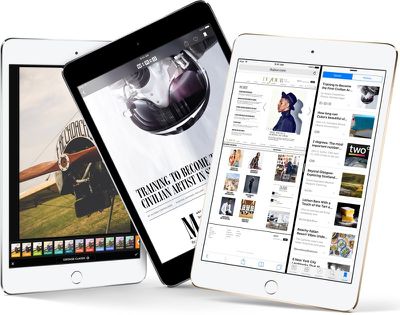 Apple is rumored to introduce a new 10.5-inch iPad Pro as early as the WWDC 2017 keynote on June 5, so it's conceivable to think the iPad mini could be axed then if the report is accurate. Apple's tablet lineup would then consist of the iPad Pro in 12.9-inch, 10.5-inch, and 9.7-inch sizes, and the new low-cost 9.7-inch iPad.
Apple launched the original iPad mini in 2012. Since the iPhone 6 Plus launched in 2014, it's been speculated that the 5.5-inch smartphone may be at least partially cannibalizing sales of the iPad mini, but Apple doesn't break out its tablet sales numbers on a model-by-model basis, so it's hard to say for sure.
Nearly two months ago, Apple discontinued the iPad mini 2 and stopped selling a 32GB version of the iPad mini 4. It also lowered the starting price of the 128GB iPad mini 4 to $399, which was previously the 32GB model's price point.
Japanese blog Mac Otakara claimed Apple would release a 7.9-inch iPad Pro in March with a Smart Connector, True Tone display, four speakers and microphones, a 12-megapixel rear camera with True Tone flash, and an improved processor, but it's already May and the rumor has yet to materialize.