iPhone Remained World's Most Popular Smartphone Last Quarter
iPhone remained the world's most popular smartphone by a significant margin last quarter, according to research firm Strategy Analytics.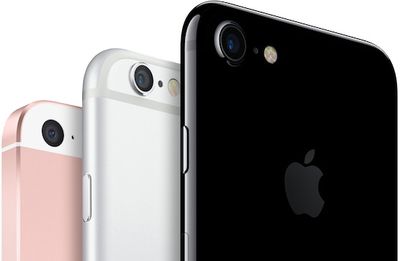 iPhone 7 and iPhone 7 Plus were the two most popular models specifically, with an estimated 21.5 million and 17.4 million shipments respectively.
Chinese brand OPPO's flagship R9 smartphone trailed in third with an estimated 8.9 million shipments, while Samsung's mid-range Galaxy J3 and J5 rounded off the top five with an estimated 6.1 million and 5 million shipments respectively. Other brands combined for an estimated 294.4 million smartphone shipments.


Apple reported that it sold 50.8 million iPhones last quarter, but it does not break out sales on a model-by-model basis.
Strategy Analytics' estimates suggest the iPhone 7 and iPhone 7 Plus accounted for roughly 76.5 percent of Apple's smartphone sales last quarter, with the remaining 23.5 percent of sales derived from older models. The data also suggests a 55/45 percent sales split for the iPhone 7 and iPhone 7 Plus respectively.
In late January, Apple CEO Tim Cook said the iPhone 7 Plus is the most popular Plus-sized iPhone that Apple has ever sold, topping both the iPhone 6s Plus and iPhone 6 Plus. Last week, he added that Apple significantly underestimated iPhone 7 Plus demand, resulting in a shortage of the device for several months.
iPhone was the world's most popular smartphone last year as well, according to research firm IHS Markit.