iPhone Named World's Most Popular Smartphone Last Year
iPhone was the world's most popular smartphone last year, in terms of global shipments, according to research firm IHS Markit.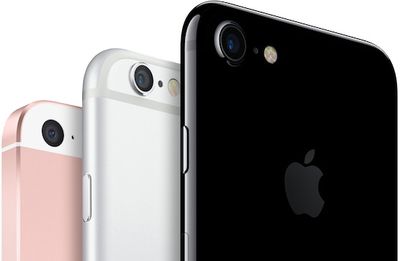 iPhone 6s took the top spot as the most-shipped smartphone in the world in 2016, trailed by the iPhone 7, iPhone 7 Plus, and iPhone 6s Plus, based on research from IHS Markit's Smartphone Shipment Database, which tracks quarterly shipment data for more than 350 smartphone models.
Samsung's Galaxy S7 edge took the fifth spot, followed by the low-cost Galaxy J3 and several other Samsung smartphones, including the Galaxy S7. Notably absent was the Galaxy Note7, which was recalled last year due to safety concerns after some units were found to have defective batteries.
Apple's lead over Samsung is impressive given that the Galaxy S7 and Galaxy S7 edge were launched in March 2016, around six months prior to the iPhone 7 and iPhone 7 Plus in September. The mid-range Galaxy J3, Galaxy J5, and Galaxy J7 also preceded the latest iPhone models when they launched in April 2016.


The above chart makes it hard to determine exactly how many shipments each smartphone model had, but it looks like the iPhone 6s was around 60 million, while the Galaxy S7 edge and most other Samsung smartphones are around the 25 million mark. IHS declined our request for specific shipment figures.
An earlier version of the chart had the iPhone 6s Plus labeled twice. IHS Markit has corrected this mistake and sent us the new chart shown above.
Oppo's A53, a popular smartphone in markets such as China and India, was the only smartphone not manufactured by Apple or Samsung to make the list. Huawei, the world's third largest smartphone maker after Samsung and Apple, did not have any of the top ten smartphones shipped last year, IHS said.
Apple's iPhone 6s was similarly declared the world's most-shipped smartphone in the second quarter of 2016 by research firm Strategy Analytics, ahead of the iPhone 7, and if IHS Markit's data is accurate, then Apple's last-generation smartphone remained most popular through to the end of last year.
It is important to acknowledge that these are estimated figures, and that shipments do not necessarily reflect sales. Apple does not break out iPhone sales on a model-by-model basis in its quarterly earnings results.