Apple CEO Tim Cook Auctions Charity Lunch at Apple Park
Apple CEO Tim Cook is partnering up with Charitybuzz for the fifth year in a row, offering Apple fans the chance to bid on a lunch with Cook where they can hold a discussion with the CEO in a private environment. Additionally, this year the meet-up will be hosted at Apple's brand new Apple Park campus.
Like previous years, the winning bidder will be able to bring along one other person, and the lunch is said to last for around an hour. The cost of the Apple Park meal is included in the winning bid, but travel and accommodations are not. The bidding ends on May 16 at 3PM EDT and as of writing one bid of $10,000 has been entered, with the auction listing an estimated value of $100,000.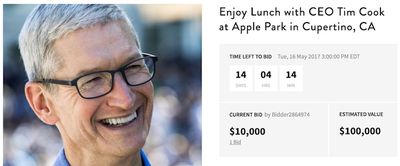 Over the past four years, Tim Cook and Charitybuzz have raised $610,000 (2013), $330,001 (2014), $200,000 (2015), and $515,000 (2016). This year will mark the first year that the winning bidder attends the lunch at Apple Park, which a small number of employees are believed to have moved into in April while construction remains ongoing.
Proceeds from the auction will be donated to the Robert F. Kennedy Center for Justice and Human Rights, which aims to achieve a just and peaceful world by advancing corporate responsibility, teaching social justice, and partnering with human rights leaders. Cook joined the RFK Center's board of directors last year after being a longtime supporter and proponent of the charity.