CarPlay Scores 85% Customer Satisfaction Rate in Limited Study
iPhone owners are largely satisfied with Apple's CarPlay, according to a new report from market research firm Strategy Analytics.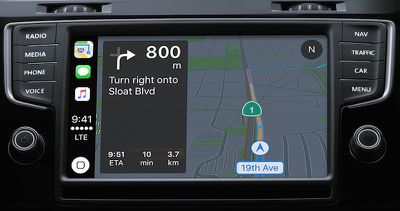 The report is available to Strategy Analytics clients only, but author Chris Schreiner shared some of his findings with MacRumors.
31 percent of users said they were "very satisfied" with CarPlay, while 54 percent said they were "satisfied," for an overall customer satisfaction rate of 85 percent. However, the report only looked at 70 owners of 2016-2017 vehicles with CarPlay installed in the United States, which is a rather small sample size.
43 percent of those users are "very likely" to recommend CarPlay to others, while 37 percent are "likely" to recommend it, said Strategy Analytics. Those with CarPlay were likely to use it for "all or most" of their in-car infotainment needs, often in favor of their vehicle's standard system, according to the report.
70 percent of participants with both CarPlay and a built-in navigation system in their car said they choose CarPlay with Apple Maps most or all of the time over their vehicle's standard system. 59 percent of the people said they use CarPlay for audio needs most or all of the time over their vehicle's radio.
"Given Apple's continued updates to CarPlay enhancing the experience further, and car-makers' inability to do the same along with their long development times, CarPlay is poised to handle the vast majority of consumers' in-vehicle needs," said Schreiner, Director of Syndicated Research at Strategy Analytics.
While customer satisfaction with CarPlay might be strong, Apple's in-car software platform is far from perfect.
Last month, a side-by-side test of CarPlay and Android Auto showed Siri was often unable to properly interpret what the driver was saying, which in one case led Apple Maps to incorrectly navigate him to an address in Tennessee rather than Toronto. Android Auto, meanwhile, interpreted voice commands correctly.
CarPlay continues to improve in other areas. In iOS 10.3, for example, Apple provided drivers with a
quicker and safer way to switch between apps
without having to take their eyes off the road for long periods of time. Wireless CarPlay is also now available in
select BMW models
, or with
Alpine's aftermarket system
.
Apple is also rumored to be working on "enhanced" Siri capabilities for the iPhone, and those improvements would likely extend to CarPlay.
CarPlay is now available in over 200 vehicle models in the United States, enabling drivers to make and receive calls, access text messages, play music, get directions, check traffic conditions, and more with Siri voice commands and on-screen controls. The platform requires an iPhone 5 or newer.
Aftermarket systems are available from brands such as Alpine, Kenwood, and Pioneer for do-it-yourself CarPlay installations.