iPhone 8 Without Touch ID Doubtfully Called One 'Likely Option' if Apple Can't Place It Under Display
Apple may be forced to eliminate Touch ID from the tentatively named "iPhone 8" altogether if it cannot resolve issues with integrating the fingerprint sensor underneath the smartphone's display within the next month or so, according to Andy Hargreaves, equity research analyst at Pacific Crest Securities.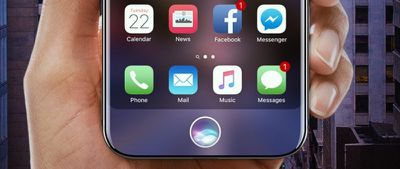 Hargreaves isn't the first analyst to think Apple
could do away with Touch ID
, but the move seems unlikely even as a last-ditch scenario. Touch ID is at the core of Apple Pay, and it appears much more likely that 3D facial or iris recognition would
complement rather than replace
fingerprint sensing.
A more likely option fielded by Hargreaves is that Apple could delay "iPhone 8" production until its under-display fingerprint sensor solution is ready.
An excerpt from his research note obtained by MacRumors:
Likely options for Apple include a delay of production or elimination of fingerprint sensing on the OLED iPhone. We believe Apple continues to work on solving its optical fingerprint issues. If it's able to solve the problems in the next month or so, it would likely place volume orders at that point. This would likely lead to a delay of the OLED iPhone launch, but we would not expect it to meaningfully affect volume for the cycle. If it's not able to fix the problems in that time frame, Apple may be forced to eliminate fingerprint sensing from the OLED iPhone altogether.
At this point, Hargreaves does not believe Apple's optical fingerprint module provider has received firm orders for production, which to him suggests that Apple does not have functionality of the optical fingerprint sensor ready. Additionally, he said Apple has evaluated and passed on Synaptics' optical fingerprint solution.
Last week, Cowen and Company analyst Timothy Arcuri said Apple is facing yield issues with its AuthenTec-based under-display fingerprint sensor solution. He too speculated that Apple could remove Touch ID, but he believes it's more likely that Apple will put Touch ID on the back of the iPhone or delay production.
If Touch ID were to be removed, Hargreaves said that would place significant pressure on unproven 3D sensing to replace the verification functionality that fingerprints currently provide. However, he said Apple's 3D sensing production appears on track, and could be a viable alternative to fingerprints.
Suppliers suggest that the solution is both fast and highly reliable, even in low-light scenarios or from odd angles. If this proves accurate, reliance solely on 3D sensing for biometric login and verification could be a viable and innovative replacement for the highly popular fingerprint sensor.
In February, KGI Securities analyst Ming-Chi Kuo said the "iPhone 8" will feature a "revolutionary" front-facing camera system with infrared for fully-featured 3D sensing capabilities. The advancements will enable the camera to determine the location and depth of objects placed in front of it.
Pacific Crest Securities maintains a $150 price target for AAPL with an overweight rating.