10.5-Inch iPad Pro Entering Limited Production, But Spring, WWDC, or Fall Launch Remains Unclear
Apple's manufacturing partners will begin limited production of the rumored 10.5-inch iPad Pro this month, according to IHS Markit analyst Rhoda Alexander, who spoke with Forbes over the weekend.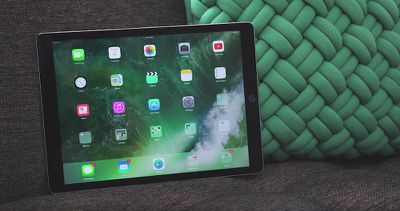 At this point, however, it remains unclear whether the 10.5-inch iPad Pro will be announced later this spring, at WWDC 2017 in June, or in the fall or later, as rumors are lacking consensus.
Japanese blog Mac Otakara previously said Apple would unveil its new iPad Pro lineup at a March event, but that rumor failed to materialize. Instead, Apple last week announced a low-cost 9.7-inch iPad, 128GB iPhone SE, new Apple Watch bands, and a (PRODUCT)RED iPhone 7 and iPhone 7 Plus through its Newsroom.
The latest rumor from DigiTimes claims Apple is planning to unveil the 10.5-inch iPad Pro at an early April event to "mark the inauguration" of its new Apple Park campus, which opens to employees next month. While this timeline could be correct, it's unlikely Apple would have shared such specific plans with the supply chain.
Alexander believes an April launch "still looks somewhat tentative," but she said "the necessary elements are starting to come together," so it's possible Apple could do a limited spring launch in the United States and select other countries, followed by a wider rollout as production ramps up.
A person with sources within Apple's supply chain told MacRumors that they still expect the 10.5-inch iPad Pro to launch in the spring. The person requested full confidentiality due to the nature of their position.
It looks like Apple is doing the releases in a staggered fashion. I still expect a 10-inch-range iPad sometime in the spring. The supply chain is pretty clear that it is coming, maybe as soon as April.
A handful of Apple analysts that we spoke to reiterated that a fall launch is more likely, however, and if volume production has yet to begin, then a launch later this year rather than sooner is certainly a possibility.
Apple pundit John Gruber made a good point last week about why it would make sense for Apple to wait until at least October to announce the 10.5-inch iPad Pro: to avoid spoiling the design of the much-rumored iPhone with an edge-to-edge OLED display, which is expected to be announced in September.
I think the most likely explanation is that Apple is working on a new edge-to-edge design iPad with a 10.5-inch display, but that it's a 2018 thing, not a 2017 thing. Or, at the very earliest, a late 2017 thing — something they could unveil in October. […]

Among all the other aforementioned things that don't make sense regarding the rumor that a 10.5-inch iPad is imminent is the idea that the new design language would debut on an iPad, not an iPhone.
But just how much of a spoiler the 10.5-inch iPad Pro might be remains to be seen, as rumors are conflicting about whether the tablet will have an edge-to-edge display or simply a narrow bezel design. It is also uncertain if Apple will remove the Home button on the 10.5-inch iPad Pro in line with the "iPhone 8."
Back in August, KGI Securities analyst Ming-Chi Kuo said Apple would launch a 10.5-inch iPad Pro and new 12.9-inch iPad Pro in "2017," and he generally shares accurate information, so there is a good chance the tablets are coming at some point this year. He also predicted the low-cost 9.7-inch iPad.
Just a few weeks ago, mobile marketing firm Fiksu spotted four new iPad identifiers in its device data. As it turns out, these model identifiers are not for the new 9.7-inch iPad, suggesting that they could be for Wi-Fi and Wi-Fi + Cellular versions of the 10.5-inch iPad Pro and a new 12.9-inch iPad Pro.
Fiksu suggested the new iPad models could launch within a month, which would suggest a release by the end of April.