Apple Campus 2 Officially Named 'Apple Park', Set For Grand Opening in April
Apple today announced that Apple Campus 2 will be open and ready for employees to begin moving in this April, while also officially naming the site "Apple Park." Moving more than 12,000 employees to the site will take more than six months, the company said, and some smaller building construction and landscaping will continue into the summer.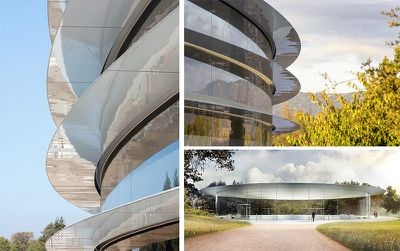 In honor of the late CEO Steve Jobs -- who would have turned 62 on Friday, February 24 -- Apple announced that the theater at Apple Park will be named the "Steve Jobs Theater." The theater will be one of the buildings that opens later this year, and is situated at one of the highest point on the campus, overlooking the nearby meadows and the large, circular main building at Apple Park.

"Steve's vision for Apple stretched far beyond his time with us. He intended Apple Park to be the home of innovation for generations to come," said Tim Cook, Apple's CEO. "The workspaces and parklands are designed to inspire our team as well as benefit the environment. We've achieved the most energy-efficient building of its kind in the world and the campus will run entirely on renewable energy."
Apple's press release also covered a collection of other buildings at Apple Park, including a visitor's center that will include a full Apple Store and cafe, both of which will be open to the public. Apple worked in collaboration with Foster + Partners to build Apple Park, which occupies 175 acres and will be powered by 100 percent renewable energy.
The main building, which has been referred to as the "Spaceship" building, includes 17 megawatts of rooftop solar power, meaning Apple Park will be running one of the largest solar energy installations on the planet when it opens in April. Apple also takes pride in the Park's landscaping initiatives, which has resulted in the replacement of 5 million-square-feet of asphalt with various greeneries, as well as over 9,000 native and drought-resistant trees.
Construction on the campus began back in 2013 and was originally pegged for completion in late 2016 before construction delays pushed back its opening date. Throughout the years, coverage of the campus has been ongoing thanks to reliable drone videos that have showed up every month or so, giving Apple fans the chance to see major construction milestones like the first time the Spaceship building took shape, all the way up to the day that lights began turning on.
Check out more images and a video about Apple Park here.