Low-Cost iPad Not Among the New iPad Models Spotted in Device Logs Earlier This Month
Back in mid-March, mobile marketing company Fiksu spotted four new iPad identifiers in its device data, hinting at the imminent release of new hardware.
We did indeed see a new low-cost 9.7-inch iPad introduced via press release on Tuesday, March 21, but as it turns out, the identifiers for the new 9.7-inch iPad don't match up with the iPads Fiksu saw, suggesting there could still be additional iPad models set to be released in the not-so-distant future.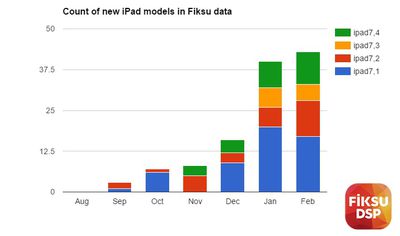 The new iPad's identifier is "iPad6,11" and "iPad6,12," with one number each for for Wi-Fi and Wi-Fi + Cellular models. Fiksu, meanwhile, saw the following identifiers in its device logs:
- iPad7,1
- iPad7,2
- iPad7,3
- iPad7,4
These numbers could perhaps refer to new iPad Pro models in two sizes, 12.9-inch and either 9.7-inches or perhaps the new rumored 10.5-inch model. The identifiers Fiksu saw are similar to the existing identifiers for the current 9.7 and 12.9-inch iPad Pro models.
- 12.9-inch iPad Pro (Wi-Fi) - iPad 6,7
- 12.9 inch iPad Pro (Cellular) - iPad 6,8
- 9.7-inch iPad Pro (Wi-Fi) - iPad 6,3
- 9.7-inch iPad Pro (Cellular) - iPad 6,4
In the original report, Fiksu said the number of new iPad models in its data was steadily ramping up, and that in its experience, those increasing numbers indicate an "imminent" release. Fiksu suggested the new iPad models could launch within a month, which would put a release somewhere around mid-April.
There has been a lot of confusion around iPad Pro launch timelines. Rumors originally suggested a new 10.5-inch iPad Pro model, and perhaps a new 12.9-inch model would launch in the spring alongside the low-cost 9.7-inch model, but we only got the latter.
It is now unclear when we will see new iPad Pro models. The release of a low-cost 9.7-inch iPad (and a new iPhone color and new Apple Watch bands) via press release seems to suggest we aren't going to see a spring event and thus no spring launch of new iPads, but it's not an impossibility.
If a spring debut doesn't happen, we could potentially see a launch at Apple's Worldwide Developers Conference in June or Apple could hold off on a launch until the fall, introducing iPads alongside new iPhones in September. At this point, Apple's iPad plans are murky at best, and we'll need to wait for more information to narrow down a release timeline.