Samsung's investigation into what caused some Galaxy Note7 smartphones to catch fire has concluded that the battery was the main reason, according to sources who spoke to Reuters on Monday.
Rumors had suggested Samsung pushed suppliers to meet tighter deadlines for an earlier launch in order to beat the iPhone 7, leading to critical oversights that led to some batteries catching fire. A person familiar with the matter told the news outlet today that Samsung was able to replicate the fires during its investigation and that the cause could not be explained by hardware design or software-related matters.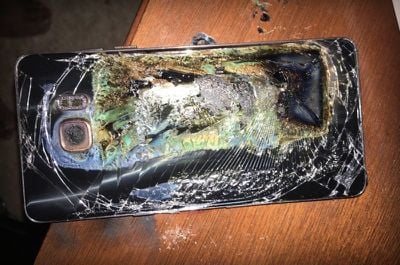 The source said that the official results of the investigation will be announced on January 23, one day before the company announces its Q4 earnings. Samsung is also expected to announce new measures it is taking to prevent similar problems in future devices, the person said. Samsung declined to comment.
Samsung issued a Galaxy Note7 recall in September, and permanently discontinued the smartphone in October after some replacement devices also caught fire. Samsung urged customers to return their Note7's at once, and in December began seeding a software update to prevent unreturned devices from charging. The phone remains banned on all U.S. flights as a precaution.

Following the debacle – said to have cost the company $5.2 billion – Samsung must now regain consumer trust, starting with the launch of its flagship Galaxy S8 in the Spring. The phone is rumored to include a 4K Super AMOLED edge-to-edge display, a home button embedded in the display, and a digital AI assistant called "Bixby".