iPhone 6s Named World's Most Popular Smartphone Ahead of iPhone 7
The latest data from research firm Strategy Analytics shows that Apple currently accounts for two of the three top-selling smartphone models shipped worldwide.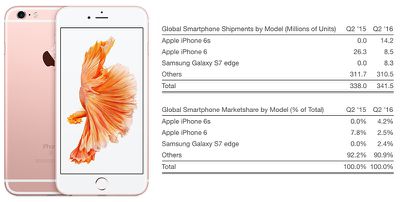 iPhone 6s was the world's top-selling smartphone in the second quarter of 2016, based on an estimated 14.2 million shipments, while the two-year-old iPhone 6 trailed in second with an estimated 8.5 million shipments.
Strategy Analytics added that the iPhone 6s is "currently the world's most popular smartphone," implying that it has remained the top-selling smartphone through the third quarter leading up to the launch of the iPhone 7 and iPhone 7 Plus.
Both the iPhone 6s and two-year-old iPhone 6 outsold Samsung's newer Galaxy S7 edge, released in March 2016, which finished third with an estimated 8.3 million shipments in the second quarter.
Apple officially reported sales of 40.4 million iPhones during the second quarter, including the iPhone 6s Plus and older models.
iPhone 7 models could remain the top-selling smartphones worldwide through the holiday shopping season after Samsung's voluntary Galaxy Note7 recall due to isolated incidents of exploding batteries. Some analysts forecast the "heartbreaking" recall could cost Samsung between $1 billion and $5 billion in revenue.