Samsung Announces Galaxy S7 and S7 Edge With Expandable Storage, Larger Battery
Today at Mobile World Congress, Samsung announced the Galaxy S7 and S7 Edge, the latest devices in its flagship line of smartphones. While the two new devices are nearly identical to last year's Galaxy S6 and S6 Edge, they add a trio of features that were left out of those models: expandable storage, water resistance and more battery life. However, while previously rumored, the device does not come with a pressure-sensitive 3D Touch-like display.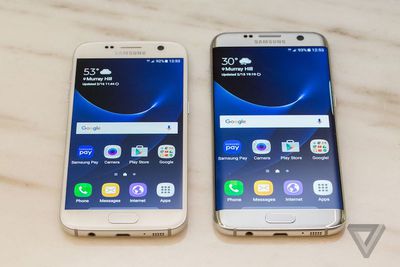 The Galaxy S7 and S7 Edge now include support for microSD cards with up to 200 GB of storage to complement the 32 GB of onboard storage. The U.S. will only receive 32 GB variants of the devices while some regions will receive a 64 GB version alongside the 32 GB version. The devices also support IP68 water and dust resistance, which means that the phones can be submersed in up to 5 feet of water for 30 minutes. The S7 comes with a 3,000 mAh battery, up from last year's 2,550 mAh, while the S7 Edge comes with a 3,600 mAh battery, up from last year's 2,600 mAh.
Both devices have received minor design improvements intended to make the devices easier to hold. The S7 now has a flatter home button and a less pronounced camera bump among other small refinements. The S7 Edge has received a larger 5.5-inch display (both devices sport the quad HD Super AMOLED display in the Galaxy S6). However, the S7 Edge has also received a sleeker, more curved back that, according to The Verge, results in a 5.5-inch device that is easily workable with one hand.
The rear camera in the new S7 and S7 Edge is now 12 megapixels, down from last year's 16 megapixels. Samsung says the camera now has larger pixels that let in 56 percent more light than the previous model's camera; it also comes with a f/1.7 aperture that lets in an additional 25 percent more light. The camera sensor's shape has also changed, moving from a 16:9 ratio to a 4:3-like ratio. The camera can also focus three times faster than the previous model thanks to its new dual pixel system, which uses every pixel as a "focus pixel," according to Samsung.
Finally, both S7 devices are powered by Qualcomm's Snapdragon 820 processor rather than Samsung's own Exynos chips, which powered the S6. However, Samsung notes that some regions of the world will still receive S7 devices powered by the Exynos chips. Both devices also have 4 GB of RAM, up from last year's 3 GB. Neither phone is equipped with the new USB-C port, with Samsung instead opting to continue with Micro USB due to its compatibility with its Gear VR headset and being the more mature technology.
The phones both run Android 6.0 Marshmallow with Samsung's TouchWiz interface. The two big software enhancements for this year's model are additional edge swipe gestures for the S7 Edge and an always-on display that continually shows either a clock with notifications, a calendar or an image. The system uses the proximity sensor to keep the display on, so when the phone is face-down, in a pocket or purse it turns off. Samsung says the feature only uses half a battery percentage an hour.
The Galaxy S7 and S7 Edge will be available on all four major U.S. carriers on March 11. The S7 will come in either black or gold color options while the S7 Edge will be available in black, gold or silver. Samsung didn't reveal prices, but said they will be roughly in line with last year's prices. Pre-orders will begin February 23. Users who purchase an S7 or S7 Edge between February 23rd and March 18th will receive a free Gear VR headset.