Apple wants to use GT Advanced's former sapphire plant to produce hardware that will be used within its U.S. data centers, according to a notification published by the Federal Register and shared by Business Insider.
Apple is seeking approval from the Foreign-Trade Zones Board to create "finished products and foreign status materials/components" in the factory. Specifically, Apple wants to create "finished server assembly cabinets" and needs permission to use materials sourced from abroad.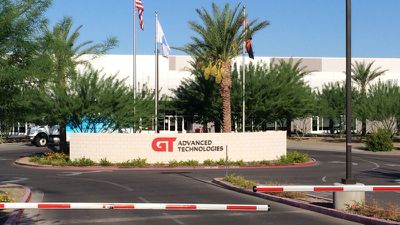 According to the filing, the data center cabinets will be used for "other global data centers." A person with knowledge of Apple's data centers spoke to Business Insider and said Apple's data center server production will be consolidated in Mesa, Arizona.
Servers for Apple's Oregon and North Carolina data centers are currently built and tested on-site, and the same likely goes for other global data center locations. With the Mesa factory, Apple will build and configure all U.S. servers in Arizona and ship them to Oregon and North Carolina.
Apple originally purchased the Mesa, Arizona factory for sapphire manufacturer GT Advanced, but after the sapphire-making company failed to produce sapphire up to Apple's standards and went bankrupt, Apple was left with an empty facility.
Apple announced plans to repurpose the sapphire plant in 2014, and is said to be investing $2 billion to turn it into a "global command center" for Apple's data network. At 1.3 million square feet, the facility is large enough to serve as both a data center and a manufacturing plant for data center equipment.