Apple Plans to Repurpose Mesa, Arizona Sapphire Plant to Preserve Jobs
Apple is not planning to abandon its now-defunct Mesa, Arizona sapphire facility, reports Bloomberg. The company has told city officials that it remains committed to bringing jobs and manufacturing to Mesa, Arizona, following the bankruptcy that caused hundreds of GT Advanced employees to be laid off.
"They've indicated their commitment to us: They want to repurpose that building and use it again," Mesa City Manager Christopher Brady said in a recent interview. Apple has said it's focused "on preserving jobs in Arizona" and promised to "work with state and local officials as we consider our next steps."
Back in October, Apple confirmed in a statement that it would look for other ways to utilize its Mesa, Arizona facility, stating that it "remained committed to the city" and planned to help GT Advanced employees who had been impacted by the bankruptcy to find new jobs.
Apple initially chose Mesa, Arizona as the site for its sapphire facility after city officials agreed to expedite permitting approvals, build out power infrastructure, and cut property taxes. Apple insisted on 100 percent renewable energy for the facility, which required the city to construct a new power substation.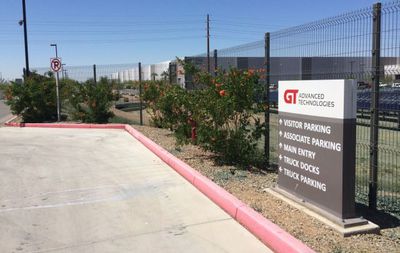 Mesa also planned to leverage Apple's presence in the city with the creation of a new technology corridor in the area, with several other companies having already expressed interest in being located near Apple.
"Apple could've invested in a facility literally anywhere in the world," said Mesa Mayor John Giles, who is planning to visit Apple's headquarters in Cupertino, California, to show the city's support. "There's a reason they came here, and none of those reasons have changed."
Apple and GT Advanced reached an agreement to end their partnership back in October, and under the terms of the deal, GT Advanced will wind down operations at the sapphire plant in Arizona before officially closing up shop in December. At the current time, most of the company's employees have already been laid off, while remaining staff cleans and decommissions sapphire furnaces to be sold.
It is unclear how Apple will repurpose the facility, but the company has been working hard to bring more Mac production to the United States. Apple's Mac Pro, released in late 2013, was the first Apple product line to be assembled in the United States as a result of the company's efforts to bring manufacturing jobs back to the country.