Verizon has announced that it will support an incoming update for potentially dangerous Galaxy Note7 devices that will effectively render the smartphones useless, after originally stating that it would not roll out the update "because of the added risk this could pose to Galaxy Note7 users that do not have another device to switch to" (via The Verge). Samsung's update is aimed at the remaining Note7 smartphones only within the United States.
The carrier believed the holiday season was reason enough to prevent remaining Galaxy Note7 users from having a bricked smartphone, and its support of Samsung's software update is keeping that in mind: Verizon will introduce the update after the holidays, on January 5. Verizon joins a staggered release of the update by most of the other major U.S. carriers, including T-Mobile on December 27, AT&T on January 5, and Sprint on January 8.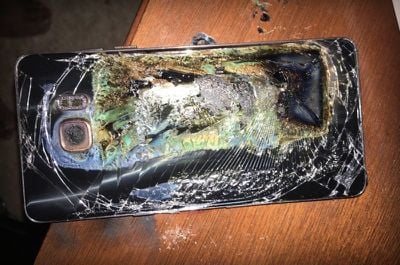 In its new statement, Verizon still urges remaining Galaxy Note7 owners -- which reportedly total less than 10 percent of the owners for the recalled device -- to stop using the smartphone immediately.

Verizon will not be pushing this software update to your device until January 5, 2017. We want to make sure you can contact family, first responders, and emergency medical professionals during the holiday travel season.

However, we urge you to stop using your Note7, upgrade it to another device, and return the Note7 to us.
Samsung's update will effectively prevent any Galaxy Note7 from being able to charge, as well as "eliminate their ability to work as mobile devices." The decision by Samsung is the company's attempt to finally put the infamous months-long coverage of exploding Note7 devices behind it for good, while moving forward into 2017 and the Galaxy S8.