Apple Inks Apple Music Deal With Indian Ride-Hailing Company Ola
Apple has partnered with Indian ride-sharing company Ola to make Apple Music available to customers who order a ride, reports The Los Angeles Times. Apple Music, along with services from Sony, Fynd, and Audio Compass, will be incorporated into a platform called Ola Play, allowing customers to control music, watch videos, read ebooks, and adjust in-car temperature, all from a tablet inside the car.
Apple Music will be one of the audio choices, letting customers choose which music to listen to on the car's audio system while on their journey. Ola, which holds 75 percent of the ride-sharing market in India, believes the platform will "completely transform" the ride experience.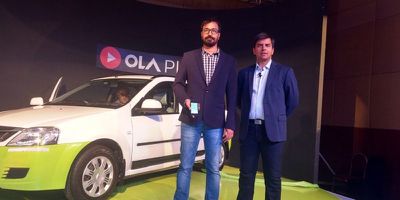 According to a Brulte and Co. analyst that spoke to The Los Angeles Times, Apple's Ola deal, combined with Apple's stake in Chinese ride-hailing company Didi Chuxing, points towards deeper connected car ambitions.
"Apple invested $1 billion in [Chinese ride-hailing giant] Didi, so it has access to all their data. Now Apple will have access to Ola's Apple Music data," said Grayson Brulte, president of technology consulting firm Brulte and Co. "So you start to put the pieces together. I wouldn't be surprised to see Apple try to gather all the data in the food chain." [...]

Brulte said it wouldn't be surprising to see Apple shift from working on self-driving cars to working on the services and interfaces with which drivers and passengers interact. Think: The sleek and simple design of iOS, for cars.
With its own car development ambitions on hold, Apple is said to be working to develop autonomous driving software that could be incorporated into vehicles made by third-party companies. Such a system would undoubtedly be able to be deeply integrated with iOS devices, offering a heads-up display and other functionality.
Apple has been dabbling in the car market for several years with its CarPlay offering, which is built into many new 2016 and 2017 car models available today, and an autonomous driving system could be a natural evolution.
Speculation has suggested that Apple could use Didi Chuxing to test such software in the future, as it provides Apple with a huge fleet of cars to work with. Apple first invested $1 billion in Didi Chuxing in May of 2016 and now holds a seat on the company's board.
Ola Play will be available in Bangalore, Mumbai, and Delhi for Ola Select customers starting next week. It will expand to all Prime rides in three months time.