Apple Given Didi Chuxing Board Seat Following $1 Billion Investment
Shortly after making a $1 billion investment in Chinese ride-hailing company Didi Chuxing, Apple was given a seat on the board, reports The Information. News originally suggested Apple had not received a board seat as part of the deal, but regulatory filings suggest a board appointment happened late in June.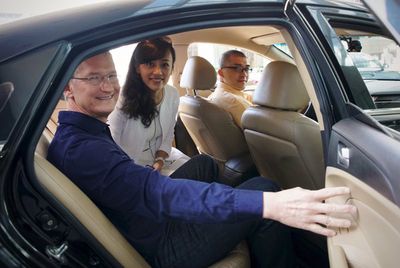 Tim Cook with Didi Chuxing president Jean Liu
The board appointment occurred in late June, according to a regulatory filing. It reinforces the gravity of Apple's investment, which influenced Uber's decision to sell its China operations to Didi at the end of July. Didi had a large lead in market share but Uber hoped Didi wouldn't be able to keep raising capital. The Apple investment, while not the deciding factor, was personally disappointing to Uber CEO Travis Kalanick, say people who know him.
Adrian Perica, Apple's head of mergers and acquisitions, represents Apple on the board. A former Goldman Sachs investment banker, Perica has been with Apple since 2009 and has handled key acquisitions like Beats.
Known as the "Uber of China," Didi Chuxing is the most popular ride sharing service in China. Apple's May 2016 investment in the company came amid rumors Apple is developing its own electric car and was instrumental in helping Didi Chuxing acquire Uber's Chinese operations in a $35 billion deal at the end of July.
Apple's $1 billion investment in Didi Chuxing was a first for the company, but it does provide Apple with access to data and expertise on both electric an autonomous car technology, something that will undoubtedly come in handy as the company works to develop its own car product.
Apple's "Project Titan" effort, described as an "open secret" by Tesla CEO Elon Musk, is Apple's car-building project. Apple is said to have a secret facility in Sunnyvale where it is developing car prototypes, and the most recent rumors suggest Apple is also focusing on autonomous driving software as part of a two-prong approach that will allow it to both develop its own car and create software that could potentially be used in third-party vehicles.
A partnership with a company like Didi Chuxing, which employs thousands of drivers, could give Apple a resource for testing future software products.