Tim Cook Says Apple Won't Create 'Converged' Mac and iPad
While the iPad Pro further bridges the gap between iOS and OS X, and notebooks and tablets as a whole, Apple CEO Tim Cook recently told the Irish Independent that Apple is not interested in creating a "converged Mac and iPad."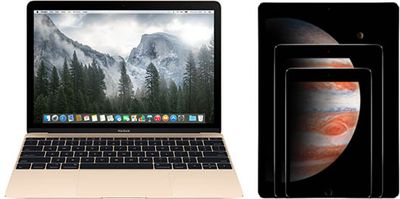 "We feel strongly that customers are not really looking for a converged Mac and iPad," said Cook. "Because what that would wind up doing, or what we're worried would happen, is that neither experience would be as good as the customer wants. So we want to make the best tablet in the world and the best Mac in the world. And putting those two together would not achieve either. You'd begin to compromise in different ways."
Instead, Cook said Apple wants to create the best possible Mac and iPad, suggesting that both products have a strong future. The chief executive is "bullish" about the reverse of declining iPad sales in recent quarters.
"It's true that the difference between the X86 [personal computer] and the A-series [Apple iPad architecture] is much less than it's ever been," says Cook. "That said, what we've tried to do is to recognize that people use both iOS and Mac devices. So we've taken certain features and made them more seamless across the devices. So with things like Handoff we just made it really simple to work on one of our products and pick it up and work on the next product."
Last week, Cook rhetorically questioned why anyone would buy a PC anymore -- excluding the Mac, which he says is not the "same" -- and said the iPad Pro will serve as a replacement for a notebook or desktop computer for "many, many people."
"I think if you're looking at a PC, why would you buy a PC anymore? No really, why would you buy one?" [...]

"Yes, the iPad Pro is a replacement for a notebook or a desktop for many, many people. They will start using it and conclude they no longer need to use anything else, other than their phones."
Many early iPad Pro reviews described the tablet as a powerful creative canvas, but not quite a true PC replacement. Benchmarks found the iPad Pro delivers MacBook Air-class CPU performance and MacBook Pro-class GPU performance.
MacStories editor Federico Viticci, as someone who uses iOS as his main computing platform, felt otherwise. "I don't see myself using a Mac as my primary computer ever again," he wrote in his iPad Pro review.
Cook also provided a non-comment about Apple's rumored electric vehicle plans, emphasizing "a need for a focus on user interface."
"I don't have anything to announce about our plans," he says. "But I think there's some significant changes in the automobile industry over the next several years with electrification and autonomous driving. And there's a need for a focus on user interface. And so I think there's a lot of changes that will go on there."
Follow our iPad Pro and Apple Car roundups for the latest news about each topic.