Apple May Introduce Next-Gen Natural Language API in its Amazon Echo Competitor
Last week we reported that Apple is said to be readying an Amazon Echo competitor that could be used in the home for features like listening to music, asking for information and getting news headlines.
The product is thought to include a camera with facial recognition capabilities and said to learn over time about its users, which interact with the device via an enhanced version of Siri. Meanwhile, Apple's virtual assistant is expected to be opened up to outside developers via a soon-to-be-released software development kit in order to facilitate this integration.
Now, Tech Insider claims that a natural language outfit bought by Apple late last year could play a central part in the company's plans for the upcoming smart home device.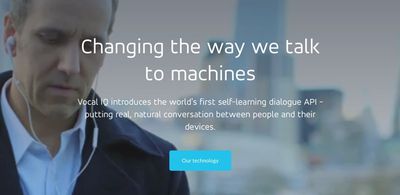 In October 2015, Apple acquired VocalIQ, a UK-based startup that had spent the last 10 years researching natural language, belief tracking, decision making, and message generation, in an attempt to develop a next-generation natural language API.
Speculation at the time suggested Apple hoped to use the technology in its car project, codenamed "Titan".
However, according to a source familiar with VocalIQ's technology who spoke to Tech Insider, Apple is likely to introduce the API in its Echo competitor because of its ability to go beyond the "session-based" contextual responses touted by the likes of Viv. VocalIQ achieves this feat by retaining semantic context between conversations and permanently remembering the preferences of its users.
Apparently the company had been testing VocalIQ against Siri, Google Now, and Cortana, and found it to be vastly superior in dealing with complex natural language queries, such as asking for "a nearby Chinese restaurant with open parking and Wi-Fi that's kid-friendly".

[But] What if you change your mind an hour later? Simply saying something like "Find me a Mexican restaurant instead," will bring you new results, while still taking into account the other parameters like parking and WiFi you mentioned before. Hound, Siri, and any other assistant would make you start the search session over again. But Vocal IQ remembers. That's more human-like than anything available today.

VocalIQ can also filter out extraneous noise to figure out exactly what you're saying, thus making it more accurate than Siri is today. It's able to take in all the noise in an environment — the TV, kids shouting, whatever — and determine with a high probability which sound is actually the user's query. It can even learn to adapt to different accents over time to improve accuracy.
While the report's source doesn't claim to have any hard evidence that Apple plans to include the technology into its upcoming smart device, the possibility is an intriguing one. It also feeds into the expectation that Apple's decision to open up Siri to third-parties indicates that the virtual assistant will receive the necessary enhancements to prevent it from being overtaken by recent advances in competing products.