Foxconn's Profits Slide 31% as iPhone Sales Continue to Drop
Following in line with a slump in iPhone sales, Apple manufacturer Foxconn recently reported a 31 percent decline in profits in the second quarter of 2016. For the full quarter, ending in June, Foxconn was said to have amassed a net profit of 17.7 billion New Taiwan dollars, down from NT$25.7 billion a year earlier. Analysts watching the company had expected a revenue of around NT$23.9 billion for the quarter (via The Wall Street Journal).
A doom and gloom sentiment began surrounding Apple, and its overseas manufacturers, soon after the Cupertino-based company reported its first quarterly sales decline since 2003 in April. Despite a strong presence of the iPhone SE in the market, iPhone sales continued to contribute to an overall revenue decline for the company as the year continued.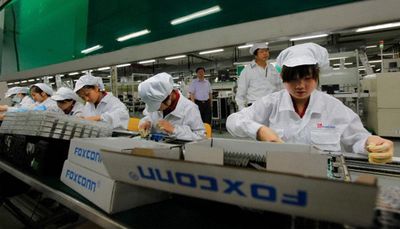 The slump in the iPhone market now appears to be fully affecting Apple's manufacturing partners with the news out of Foxconn today, but both companies are looking forward to an uptick in sales in the future. Notably, Foxconn's acquisition of Japanese electronics maker Sharp has been officially approved by Chinese antitrust authorities, "clearing the final hurdle" in the lengthy buyout process. With the acquisition over, it should be easier for Foxconn to move forward with not only manufacturing of parts for the iPhone 7, but potentially even ramping up development of AMOLED displays and glass casings for the 2017 iPhone.
Overall, weak demand for the iPhone 7 -- due to a "lack of innovation" -- was predicted by a group of Apple suppliers in May. Multiple companies, like Japan Display and Taiwanese Semiconductor Manufacturing Company, reported fears of both huge net profit declines and a worrisome decrease in chip orders thanks to an overall declining iPhone market. Still, Apple CEO Tim Cook is optimistic about iPhone sales moving forward, saying that he sees "so many signs that are positive" as the company moves towards the iPhone 7 and iOS 10 in the fall.