In late January it was reported that Apple supplier Foxconn made a $5.3 billion bid to purchase Japanese electronics maker Sharp. Today, Sharp has decided to accept an updated $6.2 billion takeover offer from Foxconn, reports Nikkei Asian Review.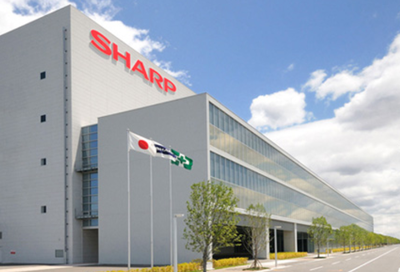 Sharp intends to restructure its operations under the umbrella of Foxconn, although arrangements of the purchase have not yet been revealed. Sharp was facing either a buyout offer from Foxconn or support from the Innovation Network Corporation of Japan, a state-backed fund that offered a roughly $2.7 billion injection and a $1.8 billion credit line.
Currently, Sharp supplies Apple with LCD displays for iPhones in addition to being a leading television maker and selling audio equipment, home appliances and more. The company has fallen on hard times recently, incurring a net loss of nearly $1.9 billion in the fiscal year ending March 2015. It also must repay $4.3 billion it had borrowed by March; Foxconn reportedly was willing to take on the debt.
It's unclear what Foxconn's plans for Sharp are, but the company could sell Foxconn-made electronics under the Sharp brand. The acquisition's impact on Apple may only be near-term, as Apple is rumored to be turning to Japan Display, LG and Samsung for OLED displays in iPhones as early as 2018.
Update: Shortly after the its acquisition of Sharp was announced, Foxconn put the deal on hold after "discovering previously undisclosed liabilities." Foxconn said it would not sign off on the deal until terms had been clarified. At issue is hundreds of billions of yen in liabilities which Sharp will need to resolve before the deal is finalized.