Apple CEO Tim Cook on Augmented Reality: 'We Continue to Invest a Lot in This'
Apple CEO Tim Cook today told investors that Apple is continuing to invest in augmented reality, and that the company is "high on AR in the long run." Cook's comments came after he was questioned about Pokémon Go, the hit augmented reality game developed by Niantic Labs, Nintendo, and The Pokémon Company.
Cook, who continually referred to "Pokémon" as "Pokemans," said Pokémon Go is a "testament to what happens to innovative apps," giving the App Store credit for empowering developers to "press a button" and "offer a product around the world." He went on to say that augmented reality offers a great commercial opportunity and great opportunities for consumers.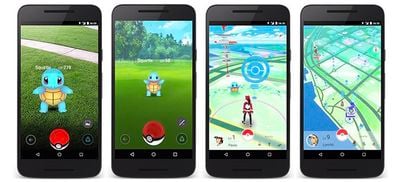 AR can be really great. We have been and continue to invest a lot in this. We're high on AR in the long run and we think there are great things for customers and a great commercial opportunity. The number one thing is to make sure that our products work well with other developer's products like Pokémon, and that's why you see so many iPhones in the wild chasing Pokemans.
Cook went on to say that he believes augmented reality "can be huge." "We'll see whether it's the next platform," he said. "Regardless, it will be huge."
In the past, rumors have suggested Apple has a secret research team working on augmented reality and virtual reality, exploring the AR/VR field and investigating how the company could embrace augmented or virtual reality in the future.
Apple has also made a number of augmented reality acquisitions, purchasing companies like Metaio, Faceshift, and Flyby Media. How Apple might incorporate augmented reality into its products remains a mystery, but there are applications related to Maps and Photos that could be on the horizon.
Earlier this year, Cook made similar comments about virtual reality, calling it more than just a niche product. "It's really cool and it has some interesting applications," he said.