Pokémon Go Set App Store Record for Most Ever Downloads During its First Week of Availability
Ultra popular augmented reality game Pokémon Go set a new App Store record during its first week of availability, seeing more first week downloads than any other app in App Store history. Apple unveiled the statistic to iMore's Rene Ritchie this morning.
According to Apple, #PokemonGo has set an @AppStore record with more downloads in its first week than any other app in the Store's history. — Rene Ritchie (@reneritchie) July 22, 2016
Pokémon Go was
first released
in Australia, New Zealand, and the United States on July 5, rolling out to
other countries
over the course of the next two weeks. Pokémon Go is now available in 30 countries around the world.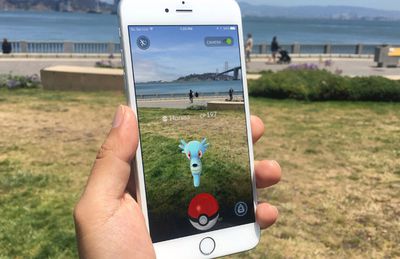 Despite server issues and in-game bugs that have yet to be resolved, Pokémon Go has become a smash hit, luring players outside to explore their neighborhoods in search of Pokémon. Last week, Pokémon Go had earned an estimated 7.5 million downloads in the United States alone, hauling in more than $1.6 million each day, and at two weeks, that number had grown to 21 million daily active users.
On the instant success of Pokémon Go, Nintendo shares jumped more than 25 percent, and businesses and restaurants near PokéStops, where players can collect items and find Pokémon, have reported significant increases in foot traffic.
In Japan, Pokémon Go today launched with a McDonald's sponsorship deal, hinting at future methods Niantic will use to monetize the game. In Japan, McDonald's locations are marked as "Gyms" where players can battle each other for control of the spot to earn daily prizes and experience.
Over the course of the next year, Apple could make upwards of $3 billion in revenue from Pokémon Go, as it receives a 30 percent cut of all in-app purchases.