Pokémon Go launched this morning in 26 new countries across Europe, capping a blockbuster week in which the augmented reality-based title became the most popular mobile game ever and saw Nintendo shares set record trading volumes in Tokyo.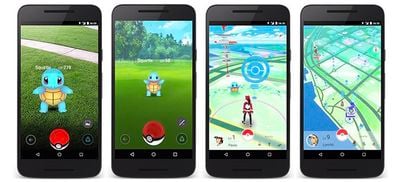 The announcement of the multi-country launch was made earlier today on the official Pokémon Go Facebook page.

Pokémon Go is available in twenty-six new countries. As of tonight, Trainers living in Austria, Belgium, Bulgaria, Croatia, Cyprus, Czech Republic, Denmark, Estonia, Finland, Greece, Greenland, Hungary, Iceland, Ireland, Latvia, Lithuania, Luxembourg, Malta, Netherlands, Norway, Poland, Romania, Slovakia, Slovenia, Sweden, and Switzerland are able to download Pokémon GO from the Play Store or App Store.
As a major market, France remains conspicuously absent from the launch list, while rollout in Canada and across the Asian region has yet to begin. Users in several countries have also reported login problems with the game since this morning's announcement, suggesting continuing server-side issues for developers Niantic Labs.
Speaking to Reuters yesterday, chief executive of Niantic John Hanke said Pokémon Go will release in around 200 countries "relatively soon" as developers work to bolster server capacity to enable the wider rollout.
Those comments helped Nintendo shares surge another 10 percent on Friday, setting a record in daily trading volume for an individual stock on the Tokyo exchange. The shares have climbed 86 percent this week, adding $17 billion in market value.
Meanwhile in New York City, a stampede was caught on camera on Friday near Central Park, where a "Vaporeon" pokémon character reportedly showed up. People were seen jumping from cars to capture the creature.
According to
The Verge
, similar scenes have taken place around the U.S. where rare game characters have appeared, with huge crowds converging on locations such as the Boston Common, Provo City Library in Utah, in Des Moines, Iowa, in Bellevue, Washington, and Altamonte Springs, Florida.
Earlier this week, U.S. mobile carrier T-Mobile announced it plans to offer its customers free data to play the game, while Sprint and affiliated Boost Mobile stores are providing charging stations to players, and even training up store staff to help customers locate nearby game features.
Niantic has also revealed it is considering introducing a sponsorship scheme similar to one it has with its other AR-based game Ingress, which assigns sponsors' stores and vending machines as spots in the game.
Update: The Pokémon Go Servers Twitter account has linked to an article by The Independent claiming that a hacking group called PoodleCorp has claimed responsbility for taking down the servers using a denial-of-service attack. Gamers are advised to check back with the account for further updates.
Update 2: Pokémon Go is now available in Canada.
Update 3: Niantic has announced it postponed the launch of the game in France "as a sign of respect for the French people in this time of national mourning." The game was expected to release Friday, July 15 in the country, but the company didn't hint as to when the expected debut is now set to happen.