Nintendo shares jumped by nearly a quarter today following the runaway success of its long-awaited Pokémon Go mobile game released last week (via Reuters).
Stock spiked as much as 25% ($7.5 billion), a record since it began trading in Tokyo in 1983. According to Bloomberg, shares of the Kyoto-based company have climbed 34% in the past two days of trading after the game was released for iPhone and Android devices.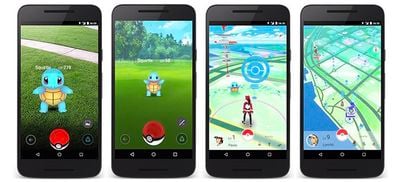 For those unfamiliar with Pokémon Go, the game uses augmented reality and real-world maps so users can venture into the real world to look for Pokémon to capture. Once collected, Pokémon can be leveled up and used for battle, with in-app purchases forming part of the game's progress mechanic.
The game debuted at the top of the App Store's Free Apps Chart in the U.S., Australia and New Zealand last week and is set to be released in Japan and other major markets soon.
The game itself was created by Niantic, spun off from Google last year, and The Pokémon Company. Nintendo owns a third of Pokémon Company and both have undisclosed stakes in Niantic.
Many iPhone users in India, Singapore, Germany and the U.K. appear to be unwittingly downloading fake app Go Catch Em All, which is also hovering around the top spot in regional Free Apps charts. Pocket Go Poke Evolution and Poke Poke Go are two other clones feeding off Nintendo's success story.
Speaking to TechInsider, Pokémon developers Niantic promised that Go players will soon be able to trade characters, encouraging more interaction in the AR world. Other new features will include more ways to play with Pokéstops and Gyms (the landmarks where players restock on items, gain experience, and battle other users for control).
Pokemon GO is available in the App Store for free. [Direct Link]