'Pokemon GO' Begins Rolling Out in the App Store
Nintendo, The Pokemon Company and Niantic's augmented reality game Pokemon GO is rolling out in the App Store now. The game is available in New Zealand, Australia and is propagating through the App Store around the world and in the U.S.
The game uses augmented reality and real-world maps to allow users to venture into the real world to look for Pokemon to capture. Once collected, Pokemon can be leveled up, traded and used for battle. They can also be assigned to defend Gyms from other players. Gyms, like Pokemon, can be found by wandering out into the real world.
When a player is wandering through their neighborhood and a Pokemon is nearby, the game will send the player a notification. Certain Pokemon and items are only available in select locations. For instance, water Pokemon are available near bodies of water while certain PokeBalls are located near museums and other points of interest.
Players can also purchase an optional accessory called Pokemon GO Plus, a wrist-worn device that syncs with the game and alerts users to events happening in the game within their physical vicinity, like the appearance of a new Pokemon.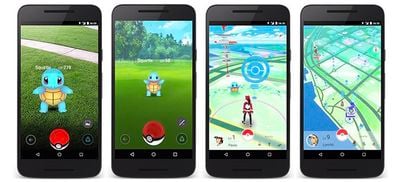 Our sister site TouchArcade shared some thoughts on the app compared to its beefier, handheld cousins on Nintendo DS.

While the feedback from the beta hasn't been entirely positive, and it's questionable whether the game will live up to the hidden complexity of the Nintendo handheld titles, Pokemon GO will certainly fill a void for anyone looking for critter catching action on their smartphone.

Pokemon GO is Nintendo's second game for iOS after Miitomo. Later this year, the company will launch two more games based on its Fire Emblem and Animal Crossing franchises.
Pokemon GO is available in the App Store for free. [Direct Link]