Brikk Launches Pre-Orders for Diamond-Studded iPhone 7 Models Costing Up to $1.3 Million
Less than two months before Apple is expected to unveil its iPhone 7 lineup, Los Angeles-based luxury accessory maker Brikk has announced that it is now accepting pre-orders for diamond-studded and other customized versions of the smartphones, with prices ranging between $4,295 and $1.3 million.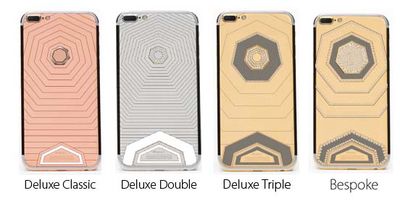 Brikk's mockups for its Lux iPhone 7 appear to be based on leaked photos and schematics of the purported 5.5-inch iPhone 7 with a dual-lens camera system, and it also advertises other rumored iPhone 7 Plus features such as a faster A10 processor, 3GB of RAM, and up to 256GB of flash storage.
Brikk describes the Lux iPhone 7 as "the most opulent iPhone the world has ever seen," and offers three different collections:
- Standard: 10 different color options with multiple diamond logo choices. Scratch resistant matte or glossy finishes. Prices start at $4,295.
- Deluxe: 24 carat yellow gold, 18 carat pink gold, and 950 platinum options with Heptagon-shaped engravings and French enamel accents.
- Bespoke: Fully customized designs between the customer and head Brikk designer Cyrus Blacksmith. Up to 60 carats of diamonds. Priced up to $1.3 million.
Brikk states that each iPhone is disassembled, hand polished, prepared, and then plated with five layers of various metals and two layers of either 24 carat yellow gold, 18 karat pink gold, or 950 platinum. The iPhone is then reassembled and the precious metals are certified using laser and x-ray testing equipment.


The customized iPhone is then packaged in a custom Zero Halliburton case with a carbon fiber and suede leather interior, with the user manual and all standard accessories included in the box. All models come with a diamond-embedded certificate of authenticity and Brikk's sapphire glass screen protector.
Deluxe versions include Brikk's customized gold studio headphones, and other Lux-branded accessories will also be available, such as a matching gold and diamond power bank, car charger, world charger, and desktop dock. Each Lux iPhone 7, assembled in Los Angeles, includes a 1-year warranty.
Prospective buyers can fill out a form on Brikk's website to receive a Lux iPhone 7 catalog and price guide for pre-ordering. A deposit of an unspecific amount is required for pre-orders. Brikk expects to begin shipments 3-4 weeks after Apple officially releases the iPhone 7, which is expected to be introduced in September.
Brikk also offers the Lux iPhone 6s and Lux Watch, a diamond-studded Apple Watch that costs up to $75,000. See real-life photos on Instagram.