New iPhone 7 Video Offers Side-by-Side Comparison With iPhone 6s
A new video and images posted to Chinese microblogging site Weibo and picked up this morning by NWE offer a side-by-side comparison of an iPhone 7 casing against Apple's current flagship iPhone 6s.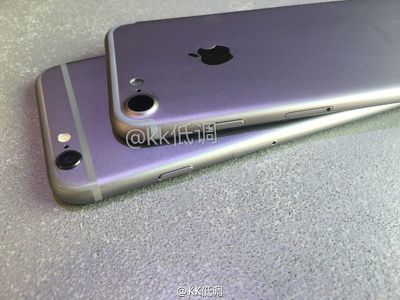 Embedded below, the new video runs to over two and a half minutes and gives a much better idea of the prospective design than last week's seven-second clip.
Whatever the origin of the assembled 4.7-inch iPhone 7 unit, it matches the Space Grey of the iPhone 6s, and features the larger camera and repositioned antenna bands seen in previous images and alleged design leaks. It also clearly shows a lack of headphone jack, with a second speaker grille alongside the Lightning port where it used to be.
The model comparison offers an idea of the relative size of the new camera lens and the surrounding bezel that protrudes from the body of the phone. The video and images also line up with previous rumors suggesting the iPhone 7 will retain the dimensions of the iPhone 6s.


Based on the widely held assumption that the headphone jack has had its day in Apple's mobile lineup, the extra space would be expected to allow for redesigned internals and potentially a larger battery.


Additionally, the iPhone 7 is thought to be equipped with a new A10 processor and could get 3GB RAM, up from 2GB in the previous phone. Internal storage is also reportedly getting a boost, with the entry-level devices expected to start at 32GB instead of 16GB.


Not shown in the video is the iPhone 7 Plus, which is rumored to have a dual-lens camera with a wider camera cutout. The removal of the headphone jack in both models is also expected to improve their water resistance. Apple is likely to unveil the devices in September.