Dark Space Gray iPhone 7 Conceptualized in New Renderings
Following rumors suggesting Apple's iPhone 7 will be available in a much darker Space Gray color that's close to, but not quite black, designer Martin Hajek has created renderings exploring what such a device might look like.
Using the iPhone 7 design rumors pointing towards a larger camera, no headphone jack, and relocated antenna bands, Hajek has created an iPhone 7 rendering in a deep shade of gray that's close to the color of the Space Black Apple Watch.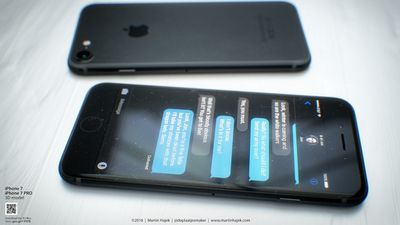 In Hajek's concept, the iPhone 7 is a much darker shade of gray than the Space Gray iPhone 6s, appearing even darker than the black and slate iPhone 5.
Over the years, Apple has used several different shades of Space Gray, Black, and Slate across the iPhone, iPad, Mac, and Apple Watch product lines, with some shades that are much darker than others. Apple's most recent products, the iPhone 6s and the iPad Pro, feature a light shade of Space Gray, and a darker Space Gray could differentiate the iPhone 7 from earlier devices.


Rumors of a darker Space Gray or Space Black iPhone 7 first surfaced earlier this week, when Japanese site Mac Otakara clarified that a rumor suggesting a deep blue iPhone 7 was in the works was mistaken. The site, which reported the deep blue color in early June, said its source had misidentified a darker space gray for a shade of blue.
Apple is expected to introduce the iPhone 7 and iPhone 7 Plus in September with an iPhone 6s-style design, no headphone jack, an A10 processor, a better camera (larger sensor for the iPhone 7 and dual-lens for the iPhone 7 Plus), and faster LTE and Wi-Fi. Unconfirmed possible features include a flush home button, improved water resistance, and a thinner body.