Ride hailing company Uber has held talks with Fiat Chrysler about a potential partnership involving self-driving car technology, according to The Wall Street Journal.
The discussions are reported to be at a preliminary stage and a deal is yet to be confirmed, cautioned people familiar with the matter.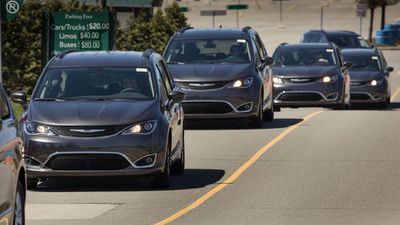 Google uses Chrysler Pacifica Minivans in its self-driving initiative (Image: Chrysler)
Chrysler is believed to be just one of several automobile makers that Uber has been in talks with in recent weeks, amid a "frenzy" of global alliances as the role of technology in transportation increases.
Uber's desire to seek new partners follows Apple's $1 billion investment in Chinese ride hailing startup Didi Chuxing last month, while similar partnerships have occurred between the likes of General Motors and Lyft earlier this year.
Also last month, Fiat Chrysler said it was working with Google to redesign the 2017 Pacifica Hybrid minivan and integrate its computers, sensors and software for testing purposes, in the same way that Google's own self-driving cars are currently a purely experimental initiative.
Uber began its own autonomous driving project last year after hiring several robotics researchers from Carnegie Mellon University and opening its Advanced Technologies Center in Pittsburgh. Testing has begun in that city and Uber plans to incorporate self-driving vehicles into its fleet by 2020.
In related news yesterday, speaking at Alphabet's stockholder meeting, executive chairman Eric Schmidt responded to an audience question about when self-driving cars might be an everyday reality on public roads.

It's very hard to know. The consensus I think within the company is that it's some years, not decades, but it is very much dependent on regulation. And it also depends on where you are. It's obviously a great deal easier to do this in areas that, for example, have ample parking.
Google has previously stated that its self-driving project will free up parking space in congested areas because such cars can park further away and come to pick up passengers, although The Verge notes the irony of its chosen testing grounds in Mountain View, Austin, Kirkland, and Phoenix, where parking is far more available than in big cities like New York.
Tesla CEO Elon Musk recently commented on Apple's project to develop its own car, codenamed "Titan", claiming that any such vehicle was unlikely to hit full-scale production or be ready for shipping before 2020, a prediction that is somewhat in line with earlier rumors that a 2020 timeframe for the car's launch is the most realistic prospect.
The bulk of Apple's car research and development is thought to be taking place in secretive buildings in Sunnyvale, California, where late night "motor noises" have been heard.